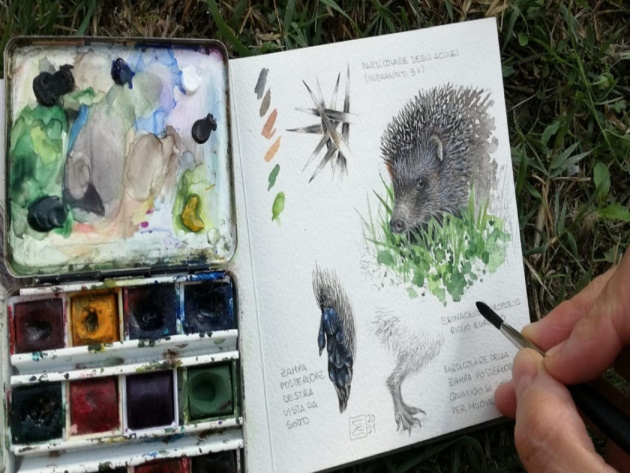 The exhibition project created by Aipan, the Italian Association for Naturalistic Art, presents at Torlonia Museums-Casina delle Civette (The House of Owls) a botanical and zoological themed notebook created by 30 Aipan artists from 2020 to 2021, in the midst of the pandemic, allowing therefore all members of the association to participate in a thematic exhibition.
The different artists, including Fulco Pratesi, honorary president of WWF Italy, were asked to illustrate on the front of the pages of a handcrafted bellows notebook, with free technique, a subject, inspired by the "territory" of their own home - a landscape, a plant or an animal – and to describe the image depicted on the back of your board. In addition to Erratico, which when opened measures approximately 380 cm, other naturalistic-themed notebooks will be on display.
During the exhibition, for schools and families, workshops are scheduled with the artists of the Association dedicated to the creation of naturalistic notebooks, with insights into the different techniques used: watercolour, tempera, colored pencils, Indian ink and wax crayons.
Photo credits: courtesy of the Torlonia Museums-Casina delle Civette (The House of Owls) official site
Informations
When
from 26 May 2023
to 1 October 2023
POINT (12.512948741 41.914183504)
Contacts
Web site:
www.museivillatorlonia.it/mostra-evento/erratico-30-artisti-italiani-un-taccuino-naturalistico-itinerante
Timetables
From 26 May to 1 October 2023
Tuesday to Sunday 9 a.m. - 7 p.m.
Last entrance one hour before closing
Closing days: Monday

Condividi
Location
Erratico – 30 artisti italiani per un taccuino naturalistico itinerante, Via Nomentana, 70
41° 54' 51.0624" N, 12° 30' 46.6164" E