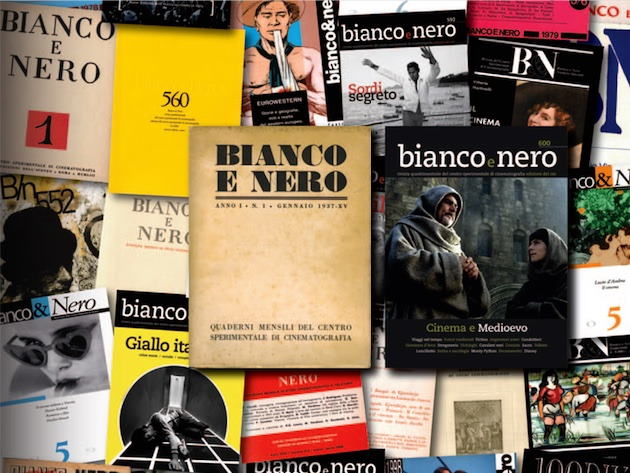 The exhibition The charge of the 600 is ongoing in the Amidei and Zavattini rooms of the Casa del Cinema (House of Cinema) curated by the CSC - Centro Sperimentale di Cinematografia (Experimental Centre of Cinematography), on the occasion of the number 600 release (dedicated to Cinema and the Middle Ages) of the historic Bianco e Nero (Black and White) film magazine, directed by Felice Laudadio.
With this exhibition the Centro Sperimentale celebrates its magazine and brings together the most beautiful covers, rare vintage photos and unpublished editorial materials from the "Luigi Chiarini" Library of the Experimental Center and from the Photographic Archive of the National Film Archive.
The exhibition traces the long history of this prestigious magazine, born on the eve of the Second World War and passed through the whole of the twentieth century to the present day, surviving the disasters of war and various economic crises. Over time, while undergoing many changes - in the setting, in the frequency, in the format, in the title - it continues to be the most long-running Italian film magazine and one of the most important in the world.
Also dedicated to the history of Bianco e Nero is the book The charge of the 600. A century of history in the most important Italian film magazine (Edizioni Sabinae), an anthology of the most significant articles with important signatures. The volume is edited, like the exhibition, by Alberto Anile, film historian and conservator of the National Film Archive.
Photo credits: Courtesy of Casa del Cinema official site
Informations
When
from 3 September 2021
to 7 October 2021
POINT (12.4874581 41.9110095)
Contacts
Facebook:
www.facebook.com/CasaDelCinema/
Instagram:
www.instagram.com/CasaDelCinema/
Telephone:
06 423601 - 060608 tutti i giorni dalle 9.00 alle 19.00
Twitter:
https://twitter.com/CasadelCinema
Web site:
www.casadelcinema.it
YouTube:
www.youtube.com/user/casadelcinemaroma

Condividi
Location
La carica dei 600 - Mostra dedicata alla storica rivista di cinema Bianco e Nero, Largo Marcello Mastroianni, 1
Largo Marcello Mastroianni, 1
41° 54' 39.636" N, 12° 29' 14.8488" E