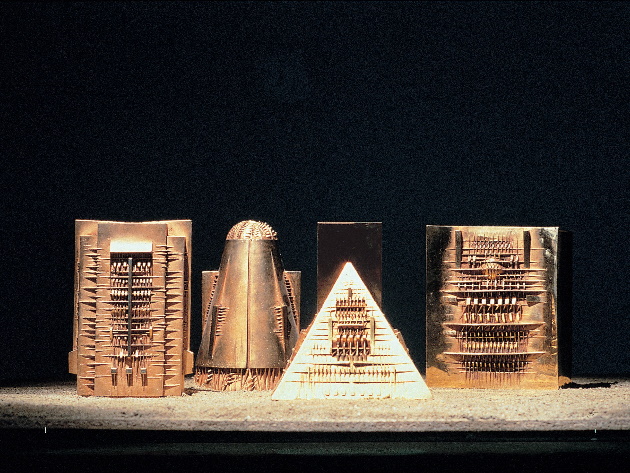 Fondazione Arnaldo Pomodoro and FENDI have developed a partnership to celebrate shared values, which starts with the creation of a large exhibition event dedicated to Arnaldo Pomodoro inside the Palazzo della Civiltà Italiana, the Roman headquarters of the Maison.
The collaboration between the Foundation and FENDI celebrates art as a tool capable of combining respect for historical heritage, attention to the dissemination and dissemination of artistic languages, and the search for new forms of collaboration with a view to sustainability and innovation.
Conceived specifically for the Palazzo della Civiltà Italiana, Arnaldo Pomodoro's solo exhibition Il Grande Teatro delle Civiltà is articulated as a big "theatre" that is simultaneously real and mental, memorial and imaginative.
On display is a selection of works from the end of the 1950s to the present day, as well as documentary materials, mostly unpublished, aimed at exploring particularly the pervasive relationship in the artist's biography between the areas of action relating to the visual arts and performing arts. Indeed, it is here that the evanescent traces of possible archaic, ancient, modern, or even just fantastic "civilizations" emerge. In their interweaving, they give us back an inexhaustible archeology and a continuous re-foundation of our knowledge, imaginations, conception of time and space, history and myth, and our relationship with other species and nature.
In the exhibition, curated by Lorenzo Respi and Andrea Viliani in collaboration with the Arnaldo Pomodoro Foundation, reality and utopia, sign and archetype, matter and vision, three-dimensionality of the work and two-dimensionality of the document, sharing in public space, and personal research conducted in the studio and in the archive integrate into an inseparable continuum, in which the interior and exterior of the building also merge, from its angular boundaries to the roof.
Informations
When
from 12 May 2023
to 1 October 2023
POINT (12.465219 41.836191)
Contacts
Online reservation:
https://fendi-event.bookingtool.it/alias/arnaldopomodorofendi
Web site:
www.fondazionearnaldopomodoro.it/event/arnaldo-pomodoro-il-grande-teatro-delle-civilta/
Web site:
https://arnaldopomodoro.fendi.com/it
Timetables
Dal 12 maggio al 1° ottobre 2023
Tutti i giorni dalle 10.00 alle 20.00
Ultimo ingresso alle 19.30
Chiuso il 15 agosto

Condividi
Location
Arnaldo Pomodoro. Il Grande Teatro delle Civiltà, Quadrato della Concordia
41° 50' 10.2876" N, 12° 27' 54.7884" E