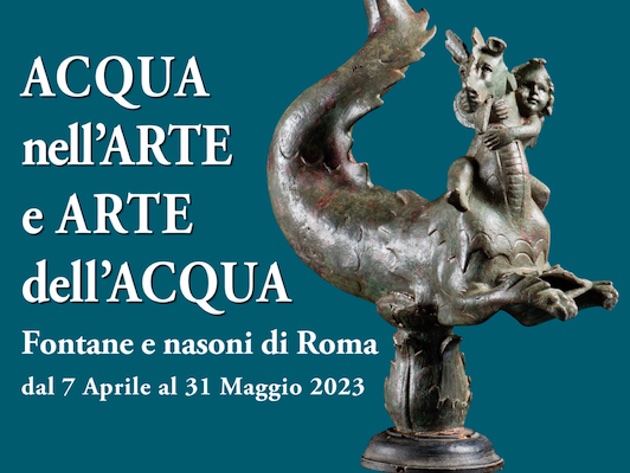 The exhibition at the National Roman Museum - Diocletian's Baths intends to celebrate the city through the noblest of the four elements.
Indeed, in ancient times Rome was known as Regina Aquarum and the fountains, in addition to being elements of embellishment, also represented a sort of ostentation of the exceptional availability of water that has always characterized the opulence of the city. The presence of the Tiber river, at the point where it is easier to cross the bends in the hills, motivated the choice of the site for the foundation of Rome; the same river guaranteed its economic development and was, for centuries, the main source of drinking water for the citizens. The construction of the aqueducts was, therefore, a priority for urban development and, still today, represents the testimony of the greatness of ancient Rome and of its advanced technological and engineering level. In fact, only thanks to the skilful management and maintenance of the aqueducts, was the urban expansion and development that made Rome Caput Mundi possible. Through the display of works of art, archaeological finds, projects and vintage photographs kept in National and Municipal Museums, the exhibition bears witness to this important aspect that has always distinguished Rome. The exhibition itinerary is divided into three sections: The Art of Water, with the exhibition of archaeological finds and an insight into the historical fountains and "nasoni" of the capital; Water in Art, with the presence of artistic objects related to the theme of water and Water management today, which presents the modern and widespread diffusion of the water service in the urban fabric of the city thanks to the famous "nasoni" (big noses).
Curated by Stéphane Verger, director of the Roman National Museum and Vincenzo Lemmo, archaeologist, promoted by ACEA S.p.A. and organized by the Roman National Museum and the European Tourism Centre.
Photo credits: courtesy of the National Roman Museum - Diocletian's Baths official site
Informations
When
from 7 April 2023
to 31 May 2023
POINT (12.5001804 41.903131)
Contacts
Online purchase:
https://ecm.coopculture.it/index.php?option=com_snapp&view=products&catalogid=99A3A699-A3F8-2EAF-46A3-0172BCBF5BD1&snappTemplate=template3&lang=it
Web site:
https://museonazionaleromano.beniculturali.it/evento/acqua-nellarte-e-arte-dellacqua-fontane-e-nasoni-di-roma
Timetables
Dal 7 aprile al 31 maggio 2023
Dal martedì alla domenica dalle ore 11.00 - 18.00
Ultimo ingresso alle ore 17.00
Chiuso lunedì

Condividi
Location
Acqua nell'Arte e Arte dell'Acqua. Fontane e Nasoni di Roma, Viale Enrico De Nicola, 79
Viale Enrico De Nicola, 79
41° 54' 11.2716" N, 12° 30' 0.648" E