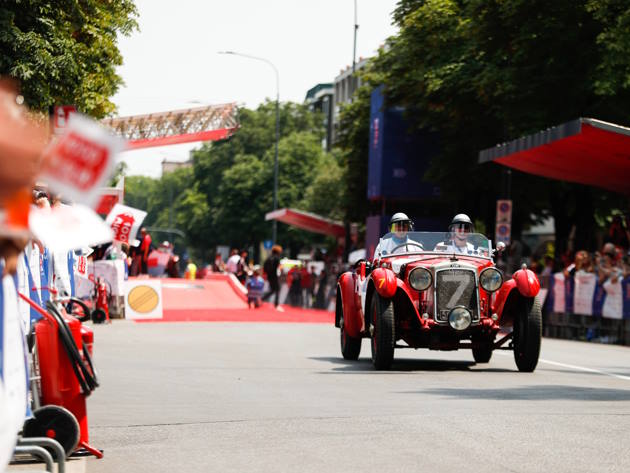 Born in 1927 as a speed race from the intuition of Giovanni Canestrini, Franco Mazzotti, Renzo Castagneto and Aymo Maggi, the 1000 Miglia is today the race par excellence for historic cars that crosses the most evocative sceneries of Italy.
The race represents a unique journey along the classic route from Brescia to Rome and back amidst the warmth of the public and the enthusiasm of the participants, in the wake of the traditional innovative spirit of the origins; an experience that sees the wonderful cars, unique pieces of art and design, moving along a lovely journey.
This year the 1000 Miglia 2023 comes with a surprise: the Race that, from June 13 to 17 will involve the 405 cars admitted to the start from Brescia will last five days.
LEG 1 - TUESDAY 13 JUNE
After departing from Viale Venezia and coasting Lake Garda, passing through Verona, Ferrara, Lugo and Imola, the convoy will end the first leg in Cervia-Milano Marittima.
LEG 2 - WEDNESDAY 14 JUNE
The second day will feature a passage through San Marino, Senigallia, Macerata with a lunch stop, Fermo and Ascoli Piceno and the final parade in Via Veneto in Rome.
LEG 3 - THURSDAY 15 JUNE
The third leg will ascend from the Capital offering lunch in the spectacular Siena, it will continue to Pistoia, the Abetone Pass, Modena and Reggio Emilia and will finish in Parma.
LEG 4 - FRIDAY 16 JUNE
On the fourth day, after Stradella and Pavia, the Race will reach Piedmont with lunch in Alessandria, then Asti and Vercelli and, via Novara, it will head to downtown Milan, which will host the last night of the Race.
LEG 5 - SATURDAY 17 JUNE
On the fifth day, after saying goodbye to Bergamo, Brescia's twin city as the Italian Capital of Culture 2023, the 1000 Miglia 2023 will end in Brescia in the late morning with a city circuit before the final passage on the Viale Venezia platform and the closing lunch.
In the evening, the see-you-in-2024 celebration with the Red Arrow's full evening events, the 1000 Miglia The Night, that will bring the intense week to an end.
INFO ON THE ROUTE
Informations
When
from 13 June 2023
to 17 June 2023
Contacts
Email:
info@1000miglia.it
Facebook:
www.facebook.com/millemigliaofficial
Instagram:
www.instagram.com/millemigliaofficial
Twitter:
https://twitter.com/millemiglialive
Web site:
https://1000miglia.it
Timetables
From 13 June 2023 to 17 June 2023

Condividi