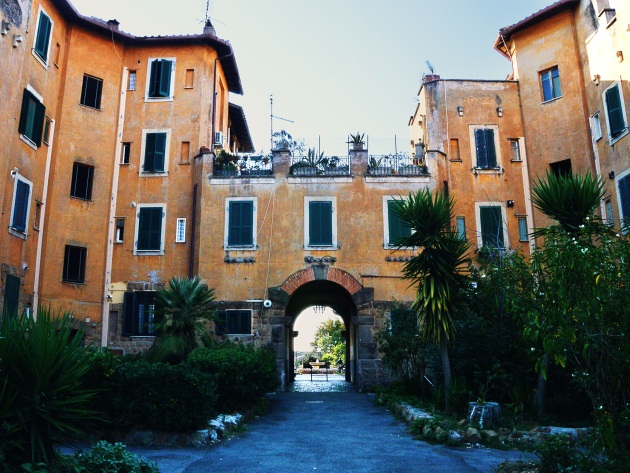 The idea of ​​the garden city was born in England. Following the increase of the population in urban centers, the quality of life, especially for the working classes, was dramatically decreased. To avoid this degradation, residential areas surrounded by self-sufficient green areas were projected; they were not far from the city, but with the benefits of a healthy environment and less congestion: the city – garden.
In Rome, there are two examples of this different way of living. An aimless stroll without a particular destination through narrow streets to discover a fantastic architecture that the city no longer makes is the best way to discover two worlds that are really "apart".
At Monte Sacro, based on a development plan drawn up in 1920 by Gustavo Giovannoni, the "Aniene City-Garden". Giovannoni designed a curvilinear road layout in the green area; the type of building was that of the detached or semi-detached house with a garden. Around Piazza Sempione, structured as a dramatic entrance and the centerpiece of the "country", there were intensive manufactured buildings together with the church, school, post office and shops. The square was completed by the building intended for the municipal delegation, in Medieval style with a porch and tower in analogy to public buildings of the Italian tradition. In the original design of the architect, an archaeological park, a wildlife park and sporting facilities were also considered.
Garbatella, created in 1920 - 1922 was also a project by Giovannoni, who was meant to become a village worker from the nearby industrial area of ​Ostiense. The first unit was built, with an impressive staircase entrance, around Piazza Benedetto Brin. You can move between houses with courtyards and those with small plots of land. The guiding principle of the neighborhood is that of the "lot", the real protagonist of the development project. The historical part of Garbatella develops in the early years around 62 lots. In the quarter, there are also picturesque, vernacular and medieval hints: they all combine to create an atmosphere suspended in time, sometimes a city of silence.