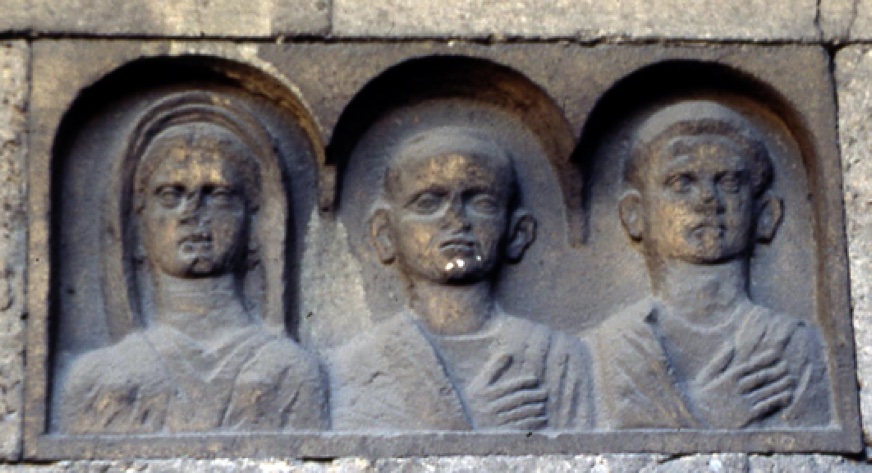 A short distance from Porta Maggiore, along the route of Via Statilia, which owes its name to the powerful Roman "gens" who had many possessions in this area and which takes up the route of the ancient Via Caelimontana, in 1916 were found some tombs of the republican age.
The oldest, dating from around 100 BC, has a façade made of large blocks of tuff with a central door, on the sides of which two round shields are carved in high relief. The burial chamber, small in size and partly cut into the rock, is covered by an irregular vault in "opus cementicium". From the inscription that was found, we know that the bookseller Publio Quinzio, his wife Quinzia and his concubine Quinzia Agatea were buried here.
The adjacent sepulcher, a little later and consisting of two adjacent cells with separate entrances, presents on the façade the bas-relief portraits of the dead, with two male and one female figures each inserted in a small arched aedicule. More or less contemporary is a columbarium, of which few traces remain. Slightly more recent and datable to the middle of the 1st century BC. around there is instead an altar monument - an ancient altar made of tuff and peperino blocks - which an inscription assigns to Auli Caesonii, probably two brothers, and to Telgennia. In front of the tombs we find the entrance to a small underground area where the remains of two ancient water pipes were found consisting of blocks of tuff dug in the center and embedded in each other.
The whole complex of tombs is very important because it shows the evolution from the type of chamber tomb - the oldest, that of Publius Quinctius - to the more recent isolated monument, a transition that took place between the end of the 2nd and the beginning of the 1st century B.C The excellent state of conservation of the tombs is due to the gradual raising of the ground that covered them, thus making them reach the present day intact.
Information
Address
POINT (12.510594 41.890017)
Timetables
Admission to the monument is allowed to groups and associations, with their own guide, who must make a reservation at 060608 (daily, 9.00 - 19.00).
Maximum 15 people per visit.
For individual visitors, who must also make a reservation at 060608, individual visits are also possible according to a schedule specified on the page > Monumenti del territorio
Contacts
Telephone booking:
060608 (tutti i giorni ore 9.00-19.00)
Web site:
www.sovraintendenzaroma.it/i_luoghi/roma_antica/monumenti/sepolcri_repubblicani_di_via_statilia

Condividi
Location
CHIUSO - Sepolcri repubblicani di Via Statilia, Via Statilia
41° 53' 24.0612" N, 12° 30' 38.1384" E
To find out about all accessibility services, visit the Rome accessible section.