Ponte Cestio connects Tiber Island to the historic district of Trastevere. Probably built around 46 BC by Lucio Cestio, left by Caesar to govern Rome during the Spanish war, it is almost contemporary with Ponte Fabricio, which links the island with the opposite bank of the Tiber and the Sant'Angelo district.
Over the centuries, the bridge, almost certainly in stone, underwent numerous restorations and renovations due to the continuous damage caused by the river current. In 365, it was restored by the emperors Valentiniano, Valente and Graziano, in the shape of a large arch flanked by two smaller arches.
The continuous structural interventions also caused changes in its name: in 370 AD, it was called "di Graziano", from the name of the homonymous emperor, as remembered by the inscription inserted in the parapet upstream; later, it also took the name of "S.Bartolomeo", from the nearby church, the main one on the island. Then, it was called "ferrato", due to the numerous iron chains necessary to anchor to the bank the hanging grindstones placed above the joined barges. This technique became necessary to guarantee the supply of flour to Rome after Vitige cut the aqueducts that fed the mills on the Tiber in 537.
Although the bridge underwent considerable damages during the French invasion of 1849, it kept its appearance almost unchanged. Only in 1899, for the construction of the new walls of the Tiber, it was necessary to enlarge the riverbed, with the consequent dismantlement of the structure and the covering. In 1892, as evidenced by the inscription on the marble parapets, the bridge was rebuilt with three large arches covered with the original travertine, and officially named Ponte Cestio.
Photo Sovrintendenza Capitolina ai Beni Culturali
You may also be interested in

Condividi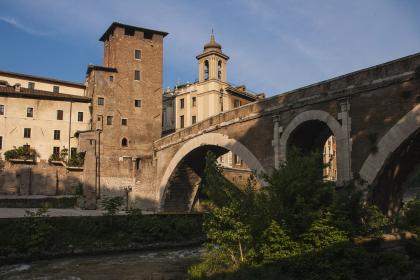 Condividi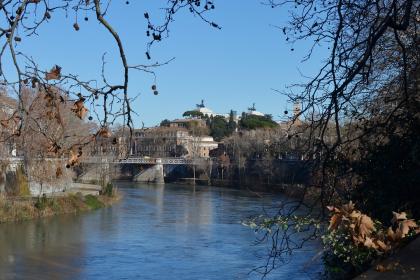 According to legend, the history of Rome begins right here
Information
Address
POINT (12.477303 41.890237)
Contacts
Web site:
www.sovraintendenzaroma.it/i_luoghi/roma_antica/monumenti/ponte_cestio

Condividi
Location
Ponte Cestio, Ponte Cestio
41° 53' 24.8532" N, 12° 28' 38.2908" E
To find out about all accessibility services, visit the Rome accessible section.