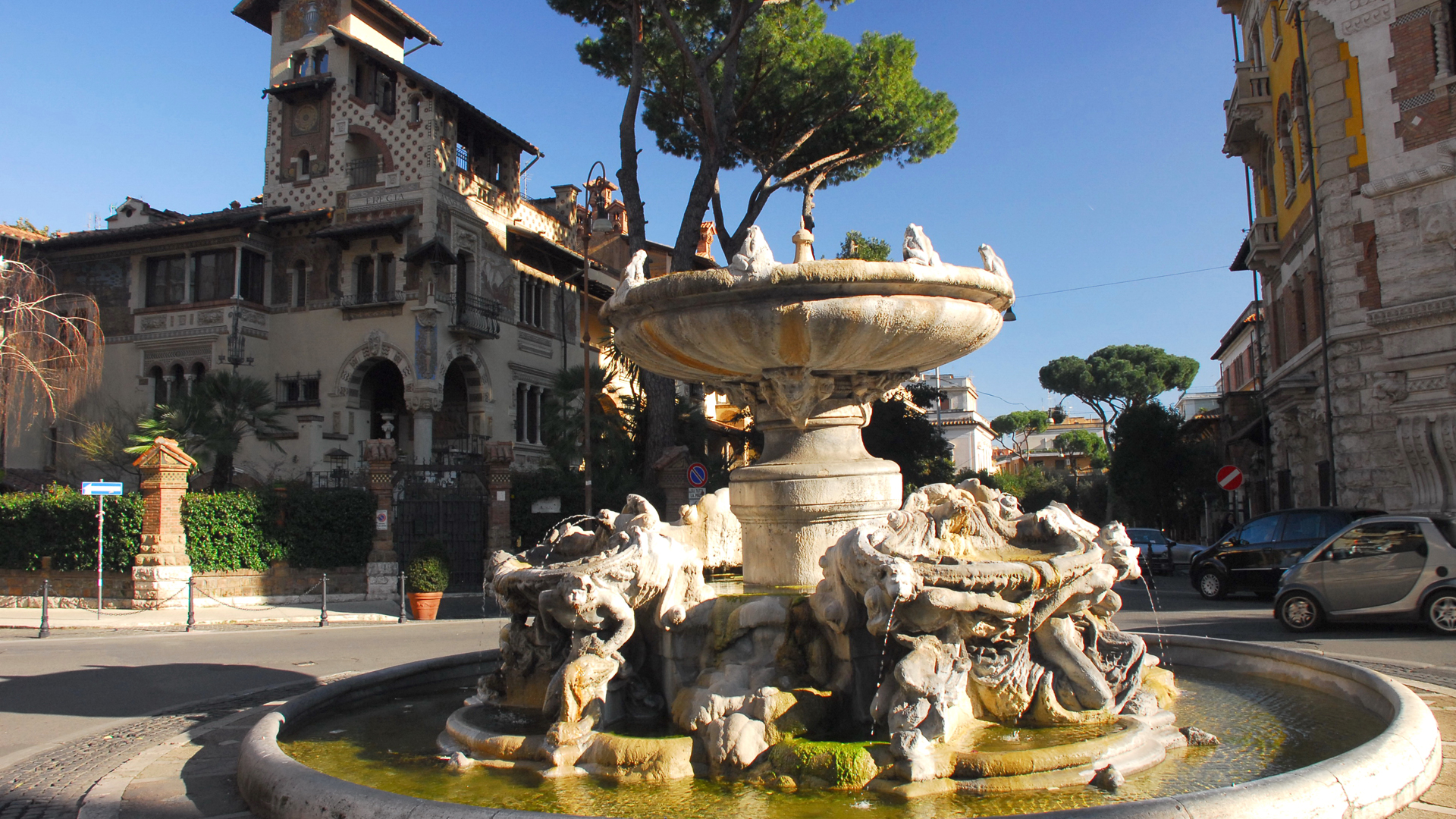 In the northern area of ​​Rome, between via Salaria and via Nomentana, there is the Coppedè district. The area takes its name from the architect Gino Coppedè who designed it in 1924 and includes a complex of 26 buildings and 17 villas.
The buildings, encircling Piazza Mincio, are an incredible "pastiche" of architectural expressions and immerse the visitor in the opulent, and even a little fictitious, atmosphere of the early 1900s.
In the centre of the square is the amazing Fontana delle Rane. According to the opinions of the time, the work wanted to be a tribute to Bernini's fountains. It is made up of a four-lobed base on which a central round basin lies. At its centre, there is a complex tangle of masks and figures supporting a shell valve with a large frog. On the edges of the basin, eight more frogs pour thin jets of water.
The buildings are different in shape and size; the most relevant and richly decorated are the Assyrian-Babylonian Palazzina del Ragno which is characterized by a large spider on the facade, and the Villino delle Fate, completely asymmetrical, with medieval arches and friezes, created with several materials, such as marble, brick, travertine, terracotta, glass.
The fantastic appearance of this area has inspired several movies, such as "Inferno" and "The bird with crystal feathers" by the horror master Dario Argento, "The perfume of the lady in black" by Francesco Barilli, "Ultimo tango a Zagarolo" by Nando Cicero and "Audace colpo dei soliti ignoti" by Nanni Loy with Vittorio Gassman.
Information
Address
POINT (12.5024611 41.9186769)

Condividi
Location
Piazza Mincio, Piazza Mincio
41° 55' 7.2372" N, 12° 30' 8.8596" E
To find out about all accessibility services, visit the Rome accessible section.