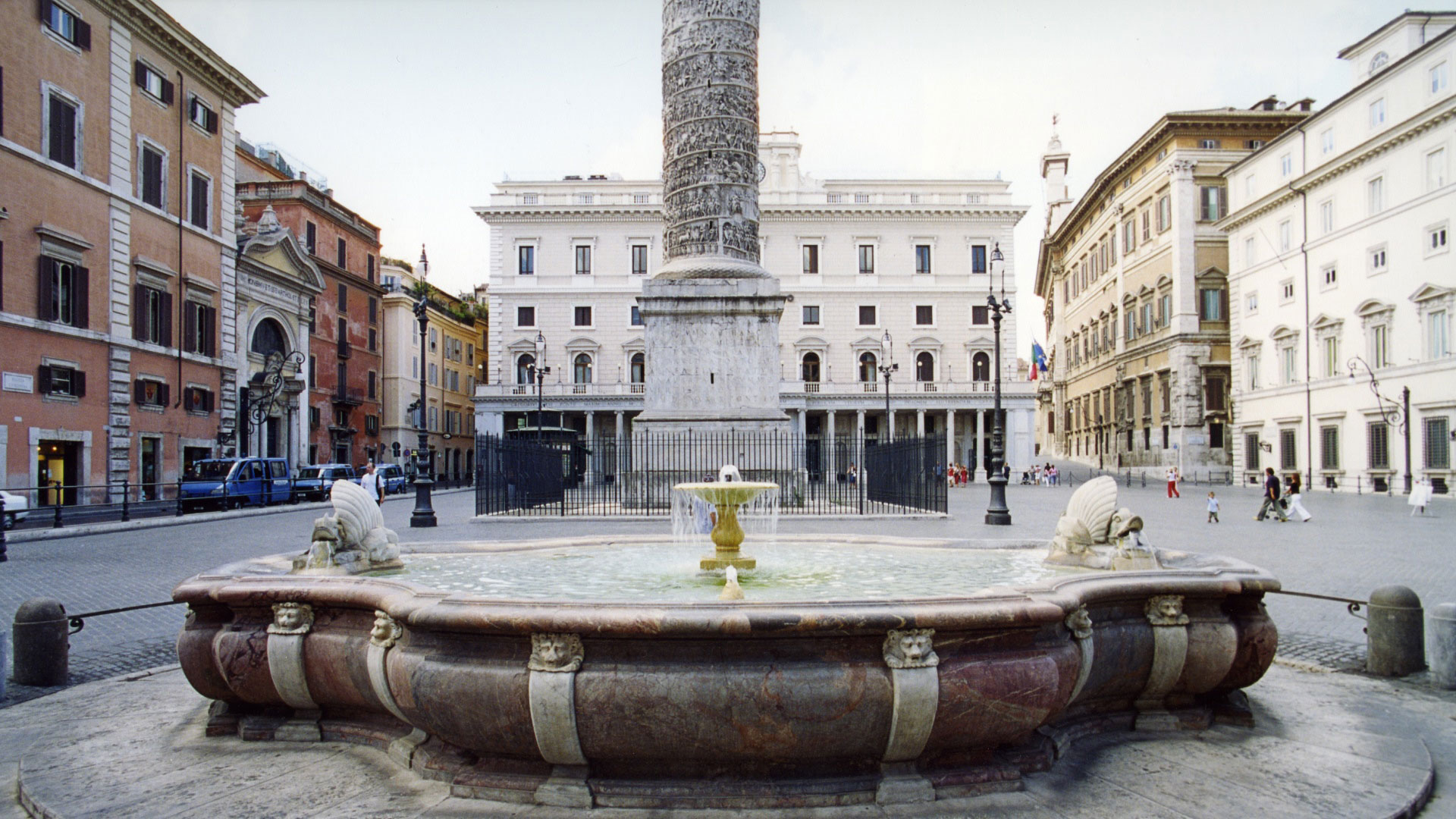 City centre and centre of political life of Rome, the square is surrounded by famous buildings: the Palazzo Chigi (on the right, with the colonnade behind) seat of the Cabinet Office since 1961; on the left is the Palazzo Ferrajoli, already Del Bufalo, Aldobrandini and Niccolini.
To the right is the small Church of Santi Bartolomeo and Alessandro dei Bergamaschi, aka Santa Maria della Pietà, founded in 1561 as chapel for the Ospedale dei Pazzi; opposite is the Palazzo Wedekind, embellished by gorgeous ionic columns from Veii and back is the building of Galleria Colonna, today know as Galleria Alberto Sordi.
At the centre of the square is the fountain by Giacomo Della Porta and Marcus Aurelius' Column (176-193) decorated with bas-reliefs to celebrate the triumph of the emperor upon the Marcomanni, the Quadi and the Sarmatians. About thirty meters high, it is supported by a base of 12 meters originally decorated with reliefs lost in the restoration carried out in 1589. On this occasion, a St. Paul' statue was placed on the top, instead of the original bronze one of Marcus Aurelius.
Inside, the column is crossed by a spiral staircase illuminated by small slit windows. In the column, inspired by the Trajan's Column, the military campaigns of Marcus Aurelius against the Germans (172-173 AD) and the Sarmatians (174-175 AD) are narrated.
As in the Trajan's Column, the story begins with the crossing of the Danube, over a bridge of boats; following scenes of marches, construction of camps, battles, sieges, speeches to troops. The emperor is almost always represented from the front to accentuate his majesty.
Made with strong chiaroscuro accents that allow a good view even from below, the reliefs of the Marcus Aurelius' column are perhaps less refined than those of the Trajan's column but probably more expressive.
Information
Address
POINT (12.4803635 41.9009203)

Condividi
Location
Piazza Colonna, Piazza Colonna
41° 54' 3.312" N, 12° 28' 49.3104" E
To find out about all accessibility services, visit the Rome accessible section.