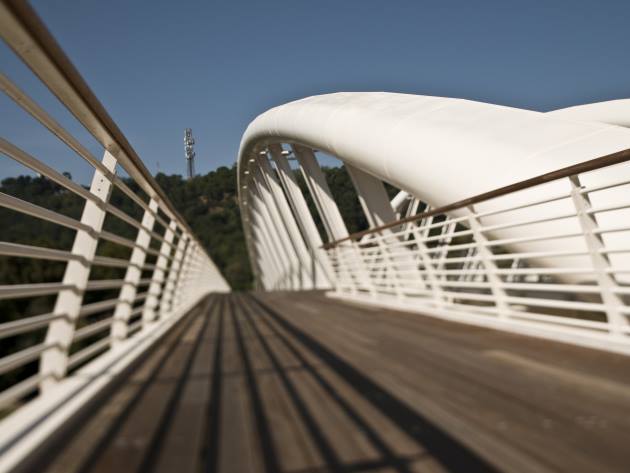 Designed in 1999, the bridge connects Piazza Gentile da Fabriano, in the Flaminio district, with the Lungotevere Cadorna at the Foro Italico swimming stadium in the Delle Vittorie district. Construction work started in 2008.
The project is part of the Parco della Musica e delle Arti Project, structured in the east-west direction of Villa Glori - Monte Mario road along the Via Guido Reni axis until the access to the South Gate of the Foro Italico Monumental Sports Complex.
The work shows with elegance and lightness the strong social and urban bond that has been created in recent decades between the Flaminio and the Delle Vittorie districts.
Costing approximately 8 million euros, the Ponte della Musica came into being on the basis of the winning project of an International Design Competition, drafted by Buro Happold of London, later joined by Carlo Lotti & Associati of Rome, one of the oldest Italian engineering companies, specialized in the construction of bridges and dams.
The executive design was carried out by ATP Mario Petrangeli Associati srl with Studio Biggi-Guerrini. The construction management, under the direction of Franco Policicchio, was entrusted to ATP Carlo Lotti & Associati and Buro Happold.
The bridge, designed and built for pedestrian, bicycle and public transport traffic, consists of a metal deck supported by two lowered steel arches resting on reinforced concrete pillars, which contain the access stairs to the two banks of the river.
The dimensions of the deck are 190 metres long, 22 metres wide in the central part and 14 metres at the ends. The free arch has a span (distance from one to the other of the bridge) of about 190 metres. The total weight of the work is 2000 tons
The solution proposed and realized by the designers is characterized by the inclination of the two arches with respect to the vertical plane and the absence of their horizontal connection in the area above the deck, in order to give sinuosity and brightness to the architectural image. The Music Bridge houses a protected public transport corridor in its central part.
The structure rests on poles while the left shoulder is placed on mobile bearings able to absorb thermal and seismic stresses.
The central part is asphalted while the lateral ones are made of wooden slats that rest on the steel structure. Following the death of the famous roman composer Armando Trovajoli in February 2013, in May of the same year, the name of the musician was added to the previous one of the bridge, which has thus assumed its present name.
Information
Address
POINT (12.459578 41.926505)
Timetables
The bridge is only accessible on foot or by bicycle.

Condividi
Location
Ponte della Musica - Armando Trovajoli, Lungotevere Maresciallo Cadorna
Lungotevere Maresciallo Cadorna
41° 55' 35.418" N, 12° 27' 34.4808" E
To find out about all accessibility services, visit the Rome accessible section.