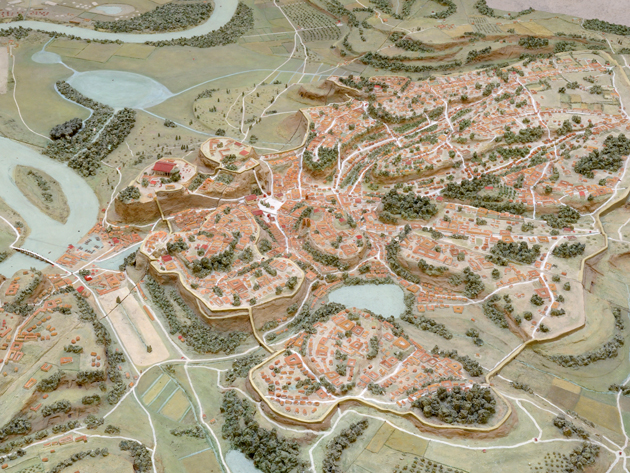 The Museo della Civiltà Romana (Museum of Roman Culture) opened in 1955. Its 59 sections illustrate all aspects of ancient Roman civilization through an outstanding collection of plaster casts taken from originals in museums across the world, many of which have since been damaged or lost, and scale models reconstructing monuments from all over the Roman Empire.
The original core of the collection dates back to Archaeological Exhibition of 1911, organised in celebration of the fiftieth anniversary of the Unification of Italy. The importance of the items collected for the occasion led to their permanent exhibition.
The first fourteen sections give a historical overview of Rome from its origins to the sixth century AD. Of particular interest is the pronaos of Augustus' temple at Ancyra (modern Ankara) displaying the text of the emperor's spiritual testament. The other 45 sections are dedicated to aspects of public, religious, economic, military and private life. The large scale model of Rome at the time of Emperor Constantine and the casts of Trajan's column commissioned by Napoleon III are both known worldwide as symbols of the museum.
This is the only museum in the world to give a complete overview of ancient Roman civilization. It is particularly important for the documentary value of the casts and its capacity to show the original composition of many great works, now dismembered and divided among different museums around the world.
Information
Address
POINT (12.4778505 41.8316659)
Timetables
The museum is closed due to restoration works.
Contacts
Facebook:
www.facebook.com/MuseoCiviltaRomana
Instagram:
www.instagram.com/museiincomuneroma
Telephone:
060608 tutti i giorni dalle 9.00 alle 19.00
Twitter:
www.twitter.com/museiincomune
Web site:
www.museociviltaromana.it
Services
Accessibile ai disabili
Guardaroba
Libreria
Servizi igienici per disabili
Videoguida in LIS
Visite didattiche
Visite didattiche per le scuole
Visite guidate

Condividi
Location
Museo della Civiltà Romana, Piazza Giovanni Agnelli, 10
Piazza Giovanni Agnelli, 10
41° 49' 53.9976" N, 12° 28' 40.2636" E
To find out about all accessibility services, visit the Rome accessible section.