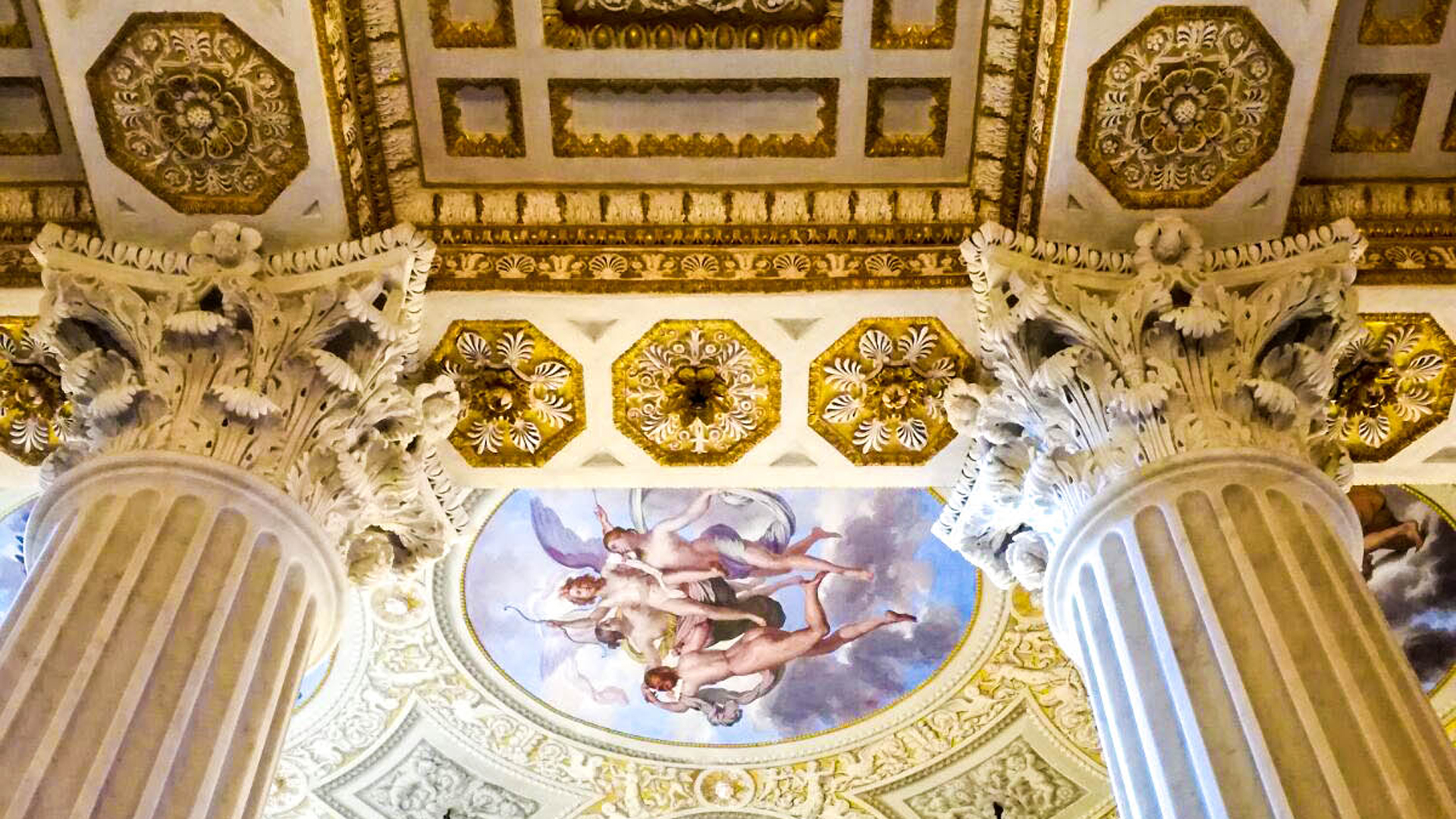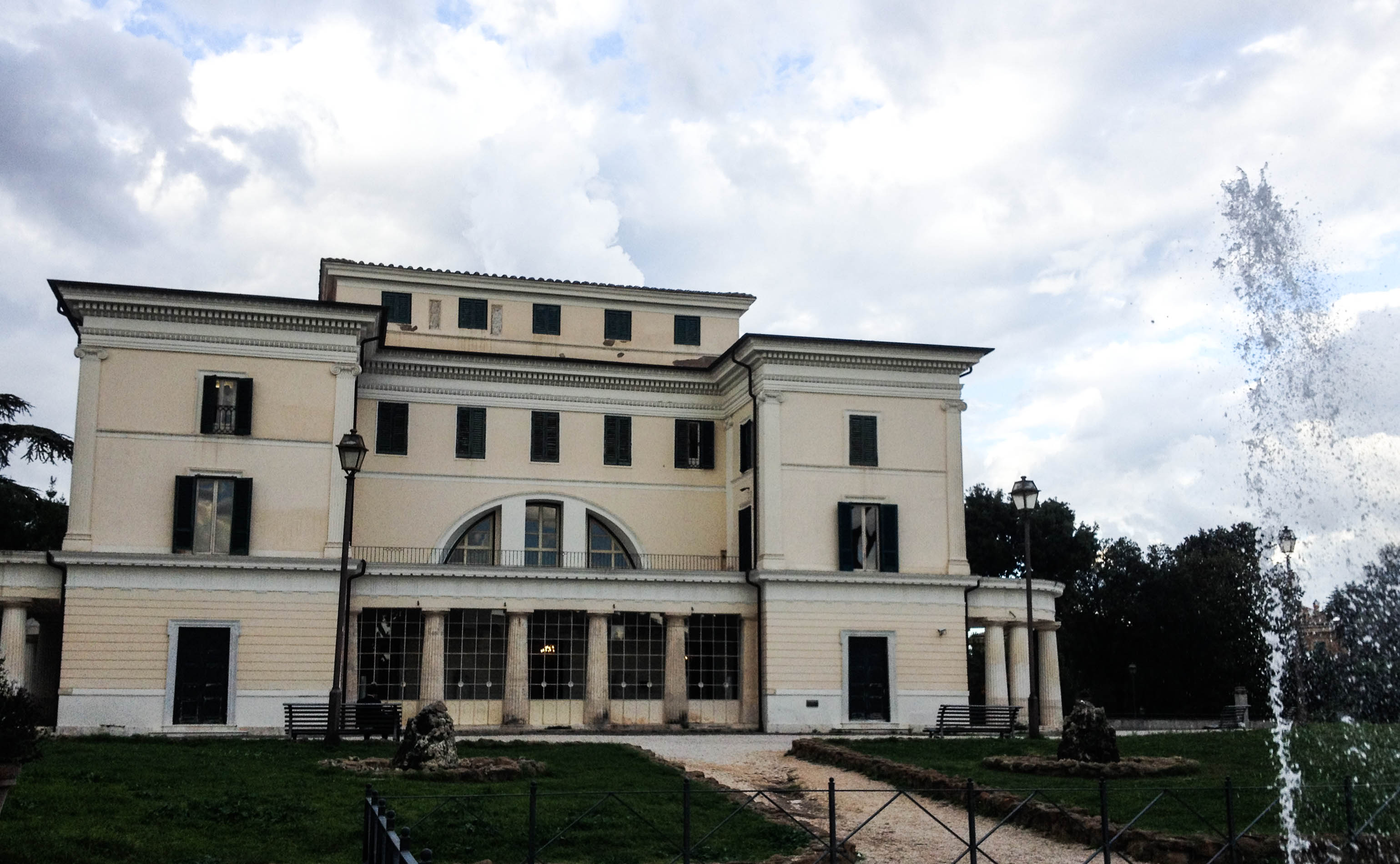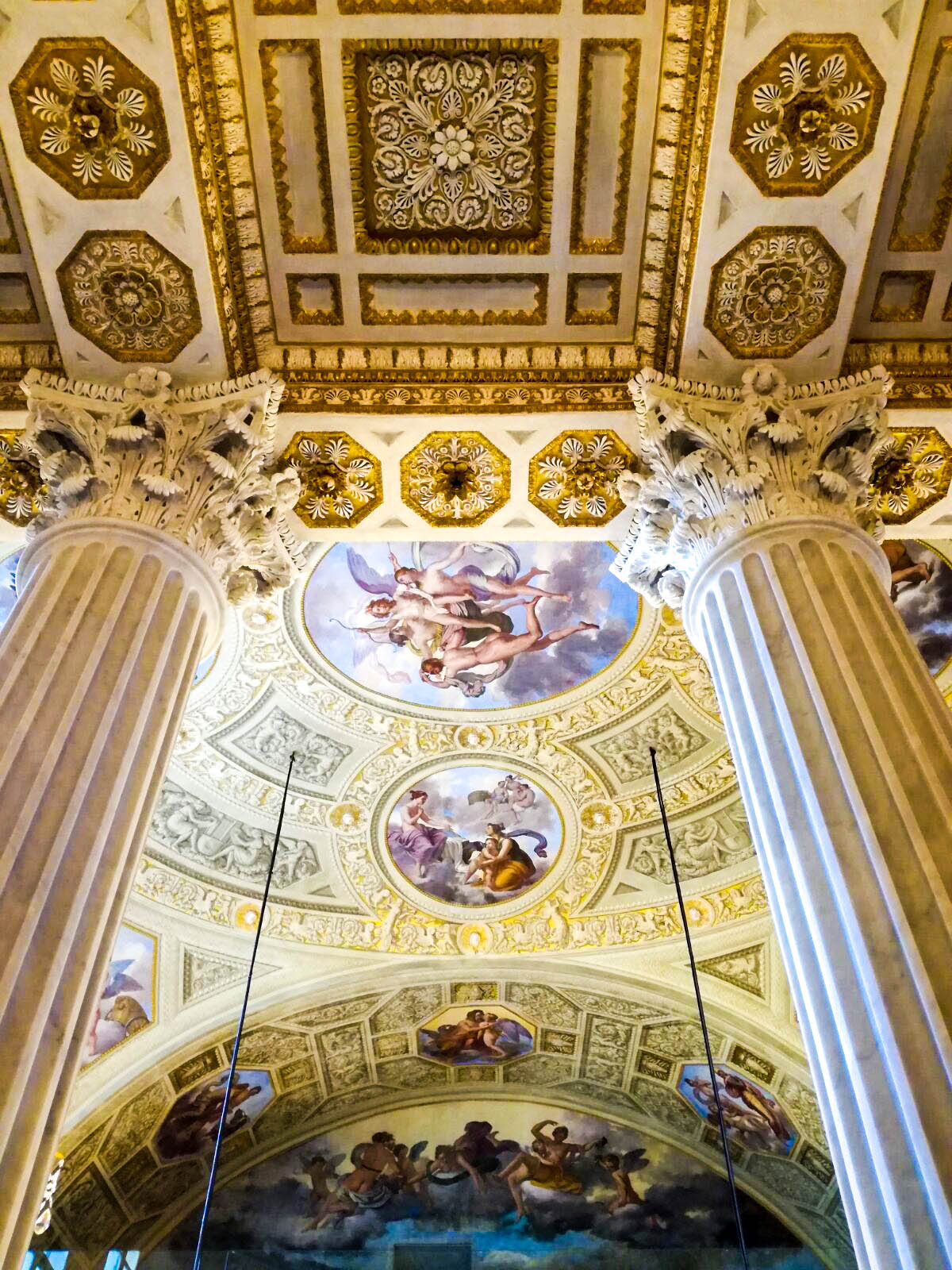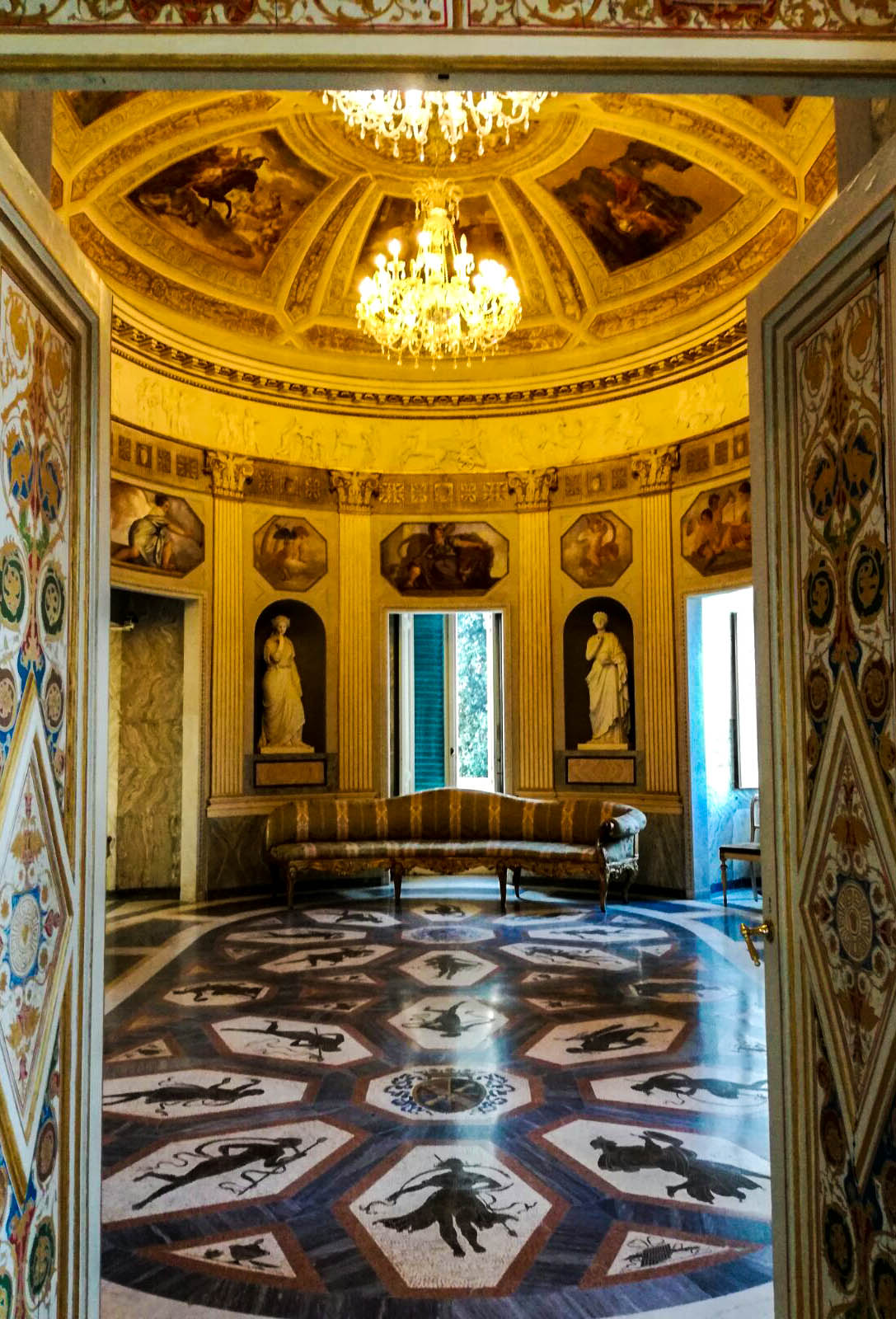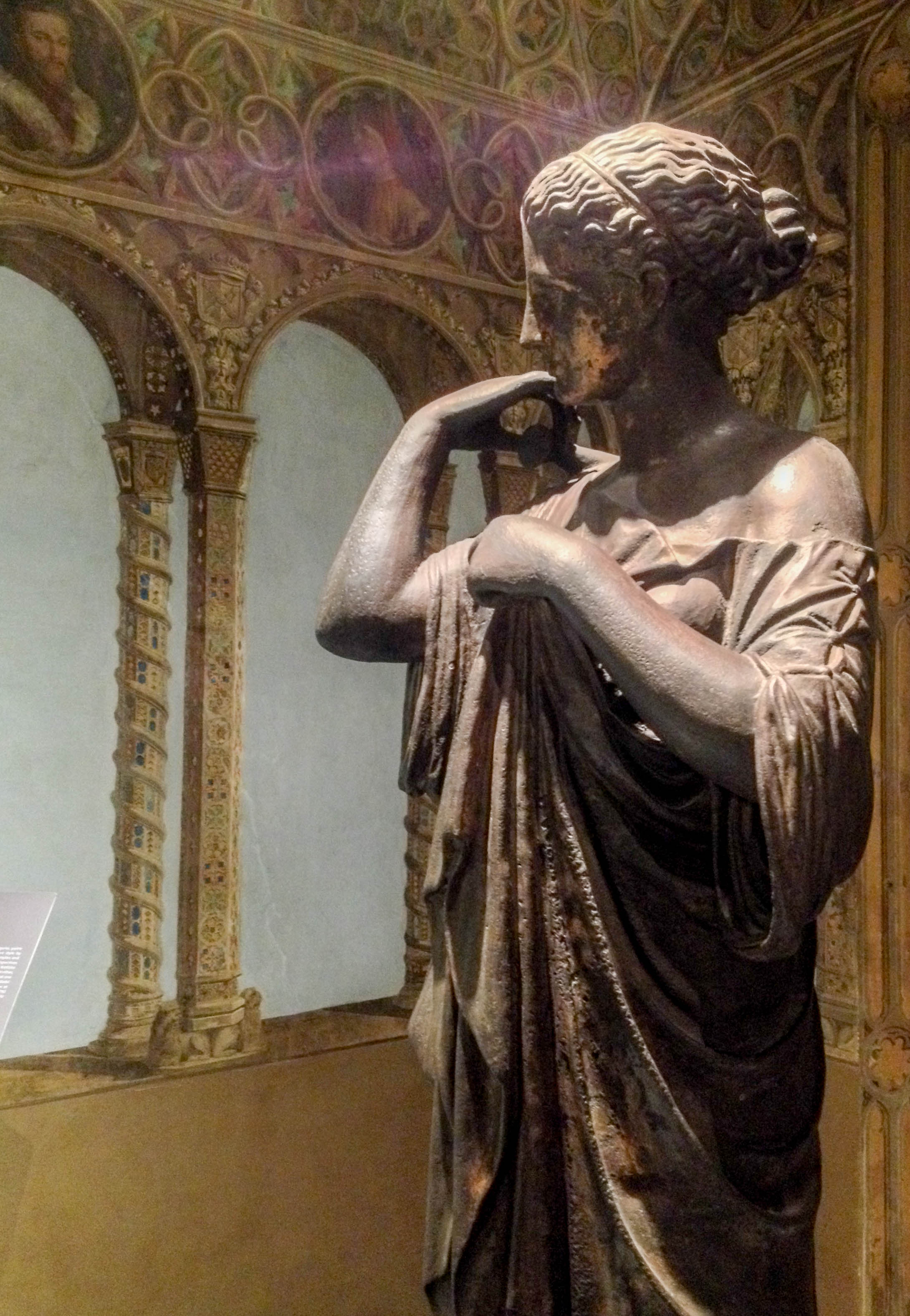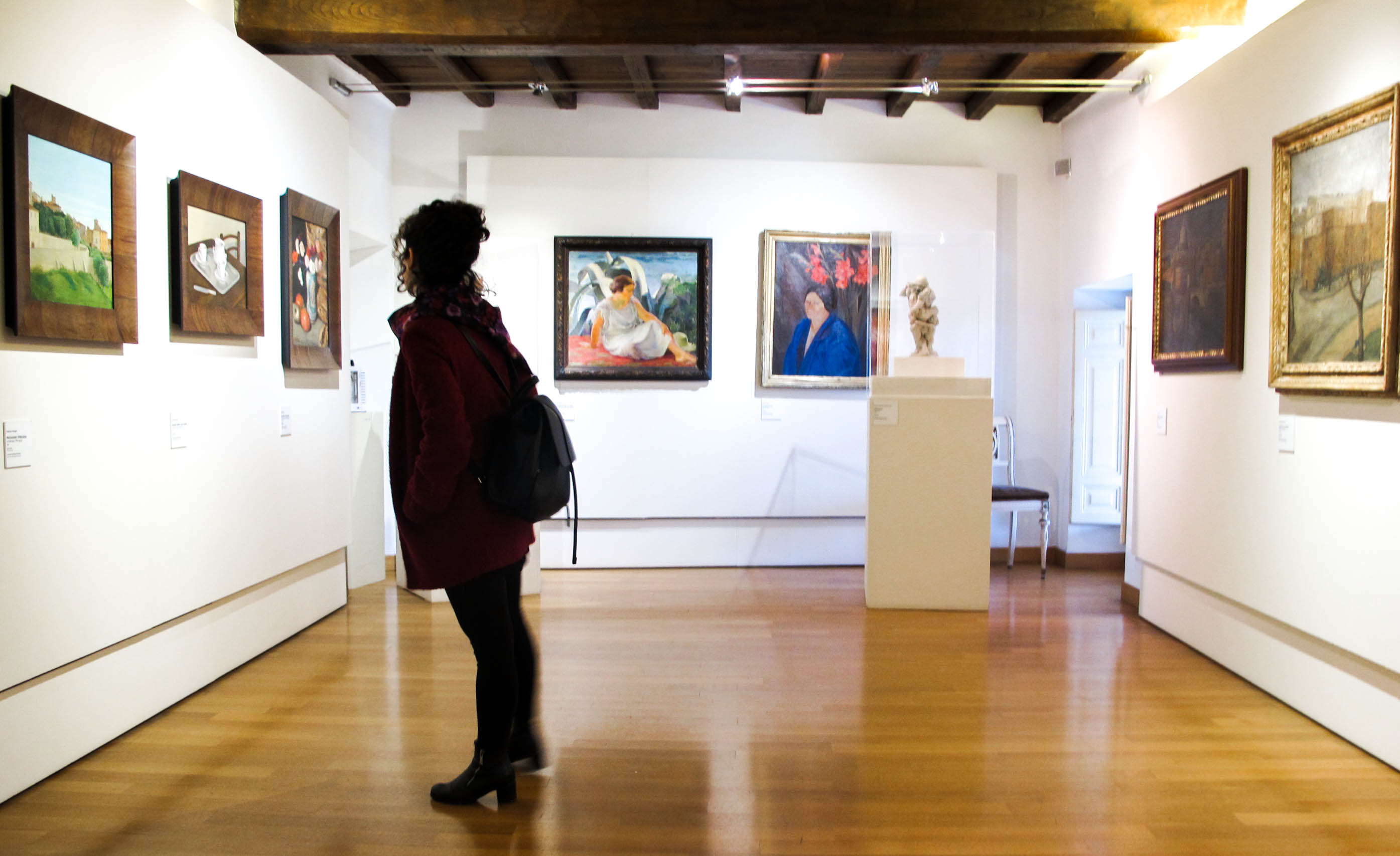 The Casino Nobile owes its appearance to the work of Giuseppe Valadier, in about 1802, and, from 1835-1840, that of Giovan Battista Caretti who added the facade's majestic porch.
Many painters worked on the decoration, among them Podesti and Coghetti, as well as sculptors and plasterers of the schools of Thorvaldsen and Canova. From 1925 to 1943, the house and grounds were rented to Benito Mussolini. During this time an anti-gas shelter and an anti air-raid bunker were created in the basement (temporarily closed to the public).
The restored building holds, on its two display floors, the Museo della Villa, with period sculpture and furnishings.
On the second floor is the Museo della Scuola Romana, displaying paintings, sculpture and drawings by the artists of that group. The Roman School did not represent a single artistic current, but rather identified a common conception of what a work of art was. The conception was held by those artists and writers (mostly from Rome or who took up residence there) who rejected the rhetorical vision of the Novecento movement founded in Milan by Margherita Sarfatti and who embraced contemporary ideals and manners of representation. However, their production differed: there was the purism of Donghi, Trombadori and Francalancia, who worked within the current of the 'Return to Order' after World War I and avantgardism that typified the decade 1910–20, the expressionism of Mafai and Scipione, whose research was for vibrant signs and vivid luminosity (often, in Scipione's case, with emphasis on the Neo-Baroque), the tonalism of Cagli, Cavalli and Capogrossi (and Mafai in the 1930s), the strong realism of Ziveri, Pirandello and the early Guttuso, and the technical experimentation and symbolism/metaphysics of Ferruccio Ferrazzi.
The background was therefore extremely varied and marked by different experiences, all of which however derived from the desire for a new realism. Another important aspect of those years was the renewal that took place in sculpture, which also occurred with notable differences between the sculptors themselves but who the shared the desire to escape rhetoric and monumentalism. Mirko, Leoncillo, Mazzacurati, Fazzini and Antonietta Raphaël fully represented this attempt to break away, both in the techniques they used and subjects they portrayed. Their works were very often marked strongly by expressionism or, in portraiture, by the search for a more effective form of realism. It was, therefore, an anti-celebrative and anti-academic form of sculpture.Corporate Events: eventi.aziendali@zetema.it
You may also be interested in
Information
Address
POINT (12.511451 41.916074)
Timetables
From Tuesday to Sunday 9.00-19.00
24 and 31 December 9.00-14.00
Last admission 1 hour before closing time
Closed
Monday, 1 May, 25 December
For updates and guidelines please check the >official website
Entrance for the disabled
For further information please consult the page Disabled people Access
ALWAYS CHECK the WARNINGS PAGE before planning your visit in the museum
Contacts
Email:
info@museivillatorlonia.it e villeparchistorici@comune.roma.it e eventi.aziendali@zetema.it per eventi aziendali privati
Facebook:
www.facebook.com/MuseiVillaTorlonia
Instagram:
www.instagram.com/museiincomuneroma
Online purchase:
https://museiincomuneroma.vivaticket.it/ita/tour/musei-di-villa-torlonia/2385
Telephone:
060608 tutti i giorni ore 9.00-19.00
Telephone booking:
Per gruppi e scuole 060608 tutti i giorni 9.00-19.00. Con la prenotazione è possibile evitare la fila presentandosi direttamente alla cassa.
Twitter:
www.twitter.com/museiincomune
Web site:
www.museivillatorlonia.it
YouTube:
www.youtube.com/user/museiincomune
Services
Accessibile ai disabili
Audioguida
Audioguide in lingua
Libreria
Servizi igienici per disabili
Visite didattiche
Visite didattiche per le scuole
Accessibility: services available

Condividi
Location
Musei di Villa Torlonia - Casino Nobile, Via Nomentana, 70
41° 54' 57.8664" N, 12° 30' 41.2236" E
To find out about all accessibility services, visit the Rome accessible section.