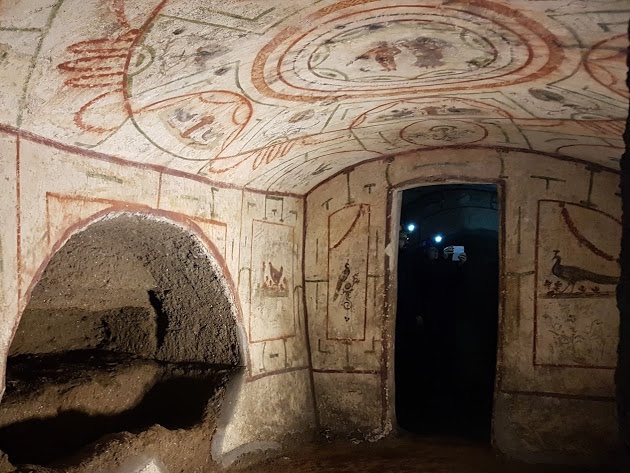 The catacombs of Vigna Randanini located between the II and III miles of the Via Appia Antica represent an example of a jewish underground cemetery in excellent condition.
Dating from the second and fourth centuries AD, the catacombs were discovered in 1800 and extend over an area of ​​approximately 18,000 m². The galleries of the complex are articulated on two levels, for a length of about 700 meters. The plan, very irregular and without a unitary plan of the sepulchral area, suggests a development in successive phases.
Inside there are various types of burials, the most characteristic of which are those of Phoenician origin known as Kôchim or multi-storey oven tombs. There are also tombs dug into the floor, niches closed by bricks and arcosoli.
Some rooms are frescoed with typical subjects of the Jewish religion such as the ark of the law and the menorah, that is, the seven-branched candelabra, others with floral motifs and depictions of animals.
The inscriptions found are in Greek and Latin; none of those is in Hebrew.
Photo credits: courtesy of The jewish catacombs of Vigna Randanini facebook page
Information
Address
POINT (12.513683 41.858293)
Timetables
They are only open on special occasions.

Condividi
Location
Catacombe ebraiche di Vigna Randanini, Via Appia Antica, 119
41° 51' 29.8548" N, 12° 30' 49.2588" E
To find out about all accessibility services, visit the Rome accessible section.