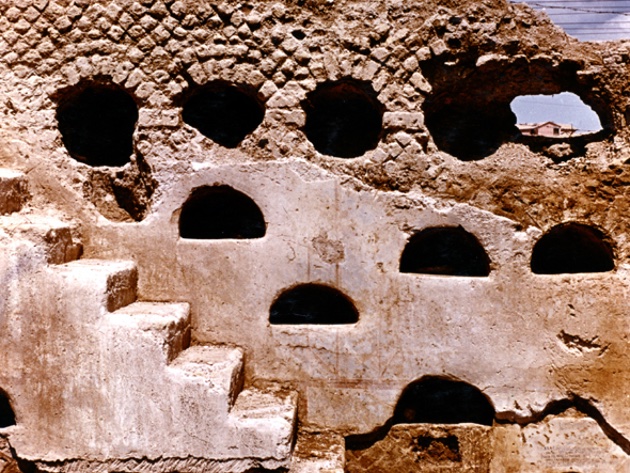 Along the sides of the via Prenestina, as was the case for the main road axes in Roman times, there were vast sepulchral areas formed largely by columbaria, funerary buildings intended for the humble class where in special niches the vases (olle) with the ashes of the deceased.
This columbarium was discovered in 1958 on the occasion of the enlargement of via Prenestina and the opening of via Olevano Romano.
It was built in reticulated work between the 1st century BC. and the 1st century AD, with a rectangular plan of 3.75 x 4.65 m and an access staircase on the north side, was covered with a barrel vault and had walls, plastered and painted in squares and floral motifs, marked by five orders of niches with one or two grooves for the urns. 
After a certain time the floor was raised and on the first, was laid a new pictorial decoration on plaster with geometric designs. There are still some traces of painting and a Latin metric inscription, painted over a niche, which is a "carmen" dedicated by the husband to his dead wife Iunia Formosa. The columbarium was used until the first century. A.D. as evidenced by the discovery of a sarcophagus of 69 AD. in the central part of the monument.
Photo: Courtesy Sovrintentenza Capitolina
You may also be interested in
Colombarium of Pomponio Hylas

Condividi
The Mausoleum of Caecilia Metella

Condividi
Information
Address
POINT (12.5551575 41.8938583)
Timetables
The monument is not at the moment open at the public
Contacts
Web site:
www.sovraintendenzaroma.it/i_luoghi/roma_antica/monumenti/colombario_di_via_olevano_romano

Condividi
Location
Colombario di via Olevano Romano, Via Olevano Romano, 3
41° 53' 37.8888" N, 12° 33' 18.5688" E
To find out about all accessibility services, visit the Rome accessible section.