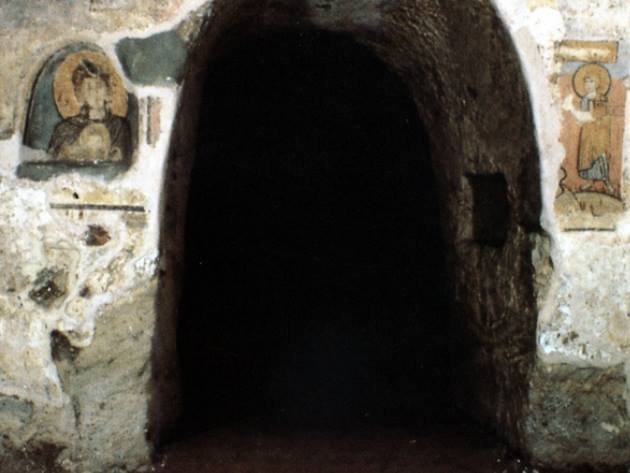 The catacomb is located along Viale Maresciallo Pilsudski, at the foot of the Parioli hill, near a vast pagan funerary area, with tombs and mausoleums dating back to the 1st and 2nd centuries AD.
It originates in the 3rd century with the construction of a series of perpendicular galleries, dug with a "trellis" pattern, with flat access. During the 4th century, by the will of Pope Julius I, a three-nave basilica, with a crypt and an apse carved into the side of the hill, was erected probably in the place where the tomb of St. Valentine was located.
In the 8th century, immediately after the entrance, a small room was created, decorated with paintings depicting the Crucifixion, the Virgin with the Child and some images of Saints. The basilica was later transformed by Honorius I and Theodore I, and a crypt, with an exedra, was realised. Here, the believers, through a fenestella confessionis, could see the relics of the martyr, later transferred to the Basilica of Santa Prassede. The complex was discovered at the end of the 16th century by the archaeologist Antonio Bosio.
The cult of Valentine seems to date back to the Constantinian period, although this name identifies two martyrs associated to Via Flaminia, Rome and Terni. It is likely that it is the same person, a native of the Umbrian city and also venerated in Rome.
Photo: Sovrintendenza Capitolina ai Beni Culturali
Information
Address
POINT (12.472828 41.925111)
Timetables
The catacomb, open to the public on Saint Valentine's Day (February 14), is currently closed for security reasons
Contacts
Email:
pcas@arcsacra.va - protocollo@arcsacra.va
Telephone:
06 4465610 - 06 4467601
Web site:
www.sovraintendenzaroma.it/i_luoghi/roma_antica/monumenti/basilica_e_catacomba_di_san_valentino
Web site:
www.catacombeditalia.va/content/archeologiasacra/it/visita-catacombe/per-regione/roma/catacomba-di-s-valentino.html

Condividi
Location
Catacomba di San Valentino, Viale Maresciallo Pilsudski, 2
Viale Maresciallo Pilsudski, 2
41° 55' 30.3996" N, 12° 28' 22.1808" E
To find out about all accessibility services, visit the Rome accessible section.