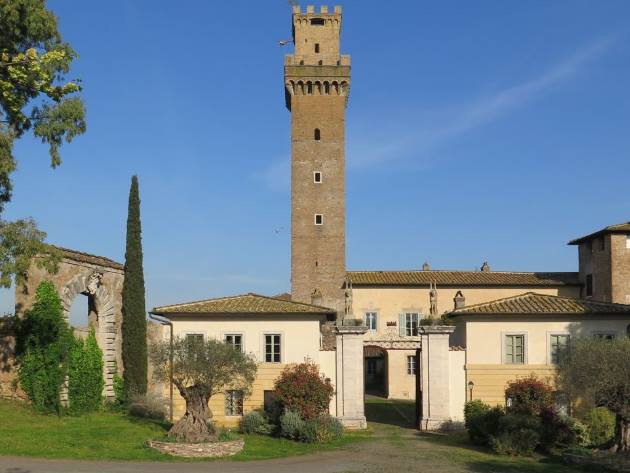 Located in the Giuliano-Dalmata district, the historical complex is characterized by different construction periods. It is now house to a library - specialized in stone art - and various cultural associations, including the University of Marmorari.
The estate extends around two large courtyards, with the farmhouse, the tower and the 19-century additions. In the outer courtyard, there is a small church: the facade is decorated with Baroque style elements, while the interiors have neoclassical decorations.
The structure was a complex, defensive system, further consolidated by lookout towers, located on the surrounding hills and still partially existing. The farmhouse and the tower were fortified by walls, today partially visible.
The tower, the main part of the complex, is 45 meters high and is preserved for two-thirds of the original height. In addition to the Roman base, it still has recognizable signs of 13th, 18th and 19th-century architectural techniques. The Roman period is identified in the walls, thanks to the insert of reuse materials of many Roman structures, such as paving stones of ancient roads, probably of the nearby Via Ardeatina.
The first document mentioning the castle is a 1217 seal by Honorius III Savelli, who attributes its ownership to the monastery of Sant'Alessio sull'Aventino. After many vicissitudes, the complex was purchased by the Borghese Family who, between 1618 and 1619, carried out important works, reclaiming the area to transform it into a pleasant place for spending summer seasons.
The Library was founded in 2006, thanks to donations and private loans, in particular from the collection of the architect Dario del Bufalo. Currently, the collection includes 5,000 volumes of the history of art and architecture - ancient and modern - periodicals and auction catalogues. The main sections are dedicated to sculpture, ancient marbles, mosaics, glyptics, Rome, castles, Byzantine, Egyptian and Federician Art.
After a few years of intense and complex restorations, today the Castle has returned to its ancient splendour, maintaining the many architectural features it has acquired over the centuries.
Photo Castello della Cecchignola Official Website
Information
Address
POINT (12.5061988 41.8181967)
Contacts
Email:
info@castellodellacecchignola.it
Facebook:
www.facebook.com/castello.dellacecchignola
Web site:
www.castellodellacecchignola.it

Condividi
Location
Castello della Cecchignola, Vicolo della Cecchignoletta, 14
Vicolo della Cecchignoletta, 14
41° 49' 5.5092" N, 12° 30' 22.3164" E
To find out about all accessibility services, visit the Rome accessible section.