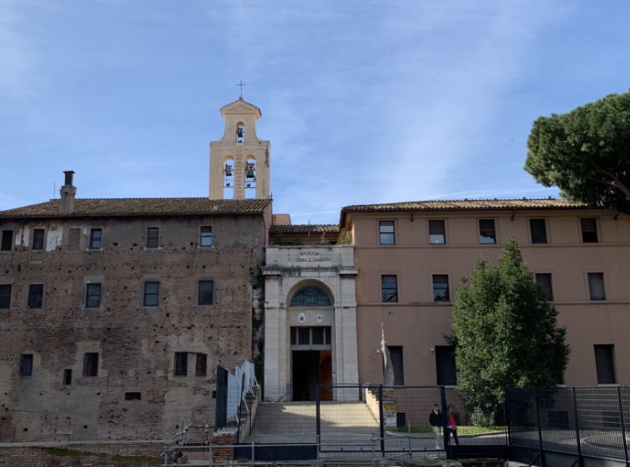 The Basilica was built in 4th century. A.D. joining two classic buildings: one of the two libraries from the Forum of Peace and the rotunda from the Temple of The Divine Romulus. It was offered to Pope Felix IV by Amalasunta (daughter of Theodoric). The Pope then adapted the buildings to a church dedicated to the doctor brothers Cosma and Damiano.
In 1512 Cardinal Alessandro Farnese entrusted the Basilica to the Franciscans of the Third Regular Order of Saint Francis still inhabiting the place today.
Its actual appearance was ordered by Urban VIII in 1632, and designed by Luigi Arrigucci on a project by Orazio Torriani. The floor was raised by 7 mts. to the new level of Campo Vaccino, creating a lower and an upper church.
Originally the access was from the Via Sacra through the portal of the Temple of The Divine Romulus. Nowadays the access id from the Via dei Fori Imperiali through an atrium overlooking a wall section made in opus quadratum of the ancient Bibliotheca Pacis.
The single naved interior features a painted and gilded coffered ceiling coated with the Urban VIII Barberini and the Glory of The Saints crests.
The apse preserves remarkable mosaics dating back to the 6th-7th centuries. 
The triumphal arch features Apocalypse with the Mystical Lamb among the seven candelabra, angels and symbols of the evangelists. The basin features Christ between Saints Peter and Paul who respectively present Saints Cosma and Damiano accompanied by San Teodoro and Felix IV with the model of the church.
The vestibule features a 18th century Neapolitan nativity scene, donated by Neapolitan Cataldo Perricelli in 1939. In 1988 some pieces were taken from the crib. The work, restored and integrated by Giulio Strauss, returned to the public in 1994.
Information
Address
POINT (12.487510542507 41.89239839693)
Timetables
For the timetable of the masses and visiting conditions, please consult the contacts.
Contacts
Email:
rettore@francescanitor.org - ufficio.matrimoni@gmail.com
Web site:
www.cosmadamiano.com

Condividi
Location
Basilica dei Santi Cosma e Damiano, Via dei Fori Imperiali, 1
Via dei Fori Imperiali, 1
41° 53' 32.6328" N, 12° 29' 15.0396" E
To find out about all accessibility services, visit the Rome accessible section.