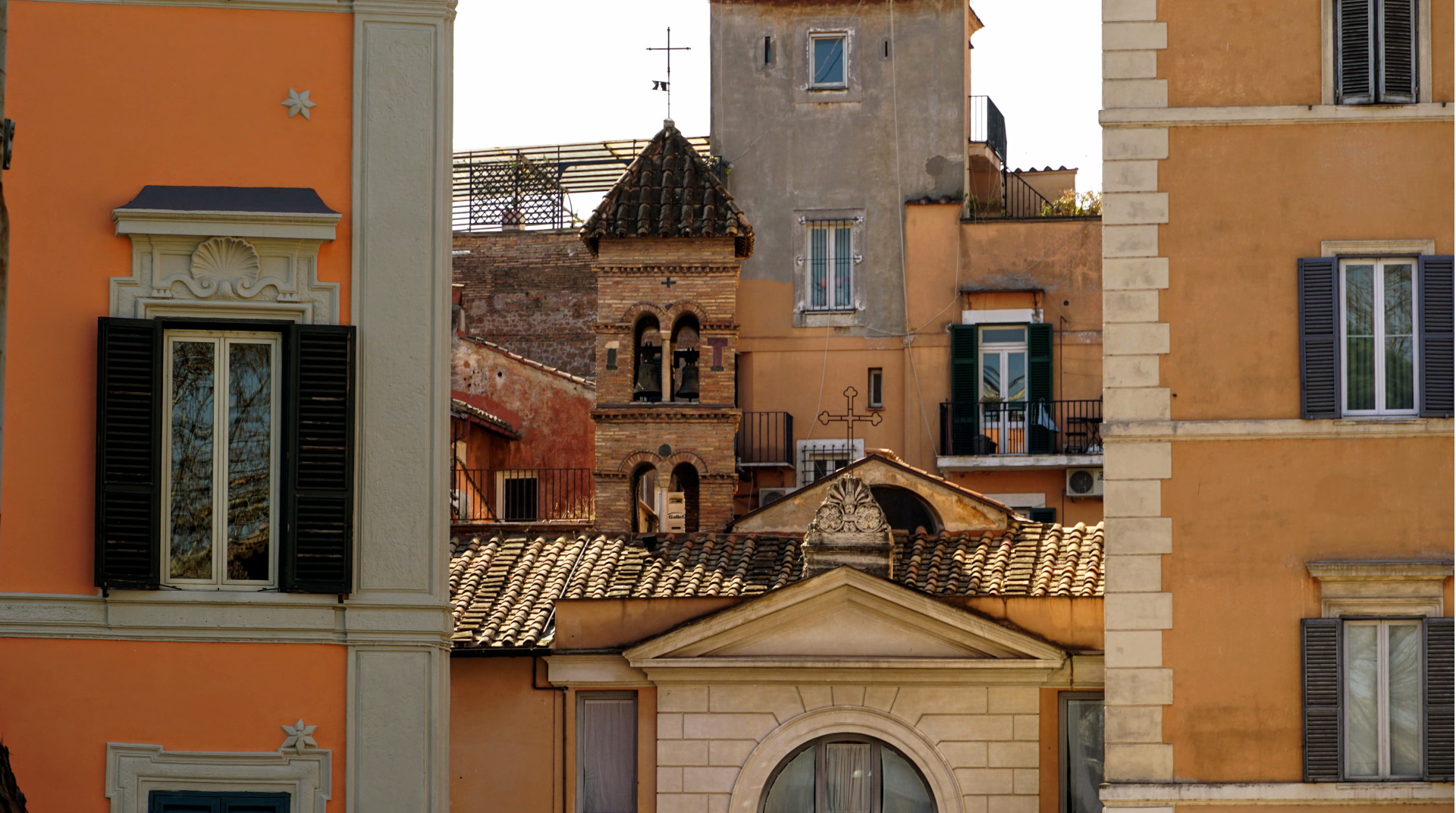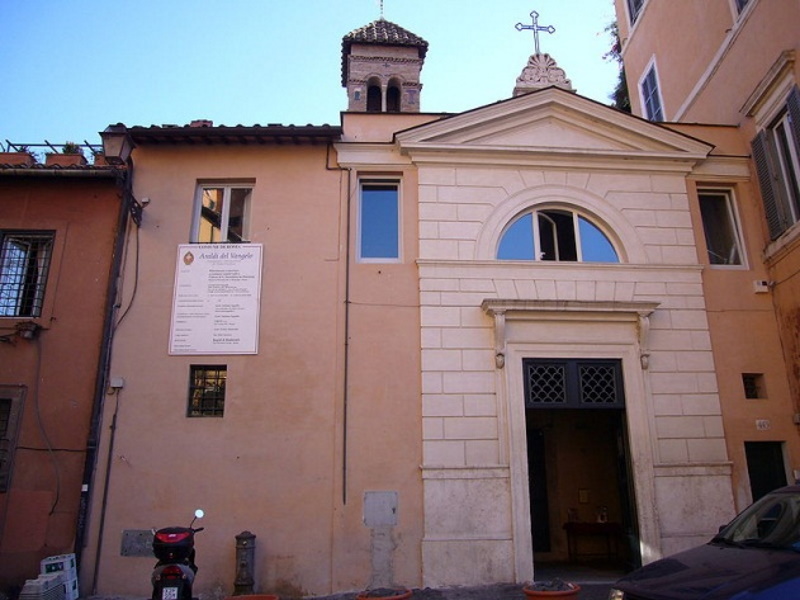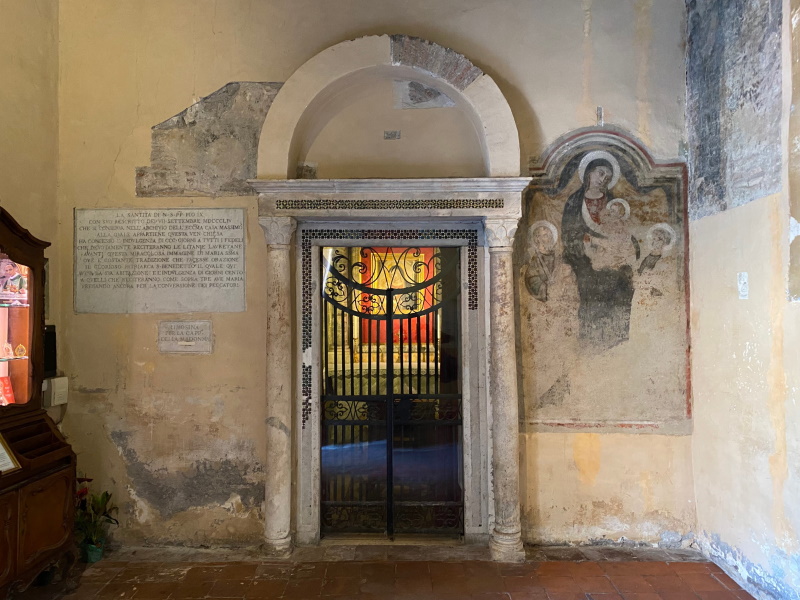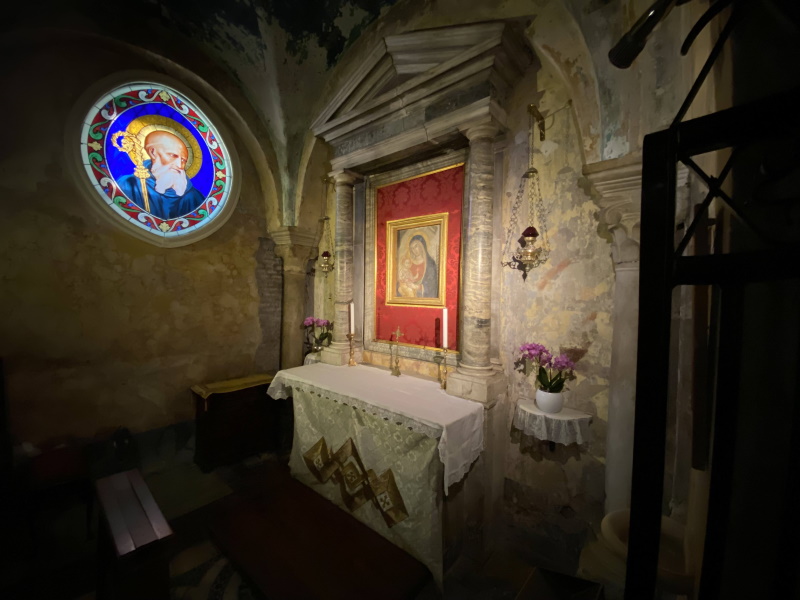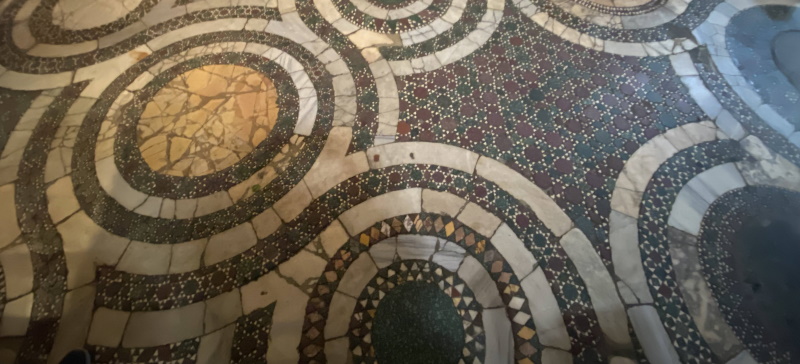 In the heart of the Rione Trastevere, a short distance from Ponte Cestio and Tiber Island, this tiny church overlooks a small square that preserves suggestions and memories of medieval Rome and whose name probably derives from the plunge-pool (piscinae) of ancient Roman public baths.
According to tradition, the church was built over the ruins of a large house belonging to the noble gens Anicia in 543. The future St. Benedictus was allegedly a member of this noble family and stayed in this house before going to Subiaco and then to Montecassino. The first documentary reference to the church is actually from the late 12th century, although parts of the fabric and capitals suggest the existence of an earlier building. The beautiful porphyry and serpentine Cosmatesque floor was executed in the 12th century: it is one of the many treasures of the church that testify to its importance in medieval Rome. Also dating from the same period is the characteristic Romanesque bell tower: decorated with tiny mullioned windows supported by a small column and marble fragments of different shapes and colors, it is the smallest bell tower in the city and preserves the oldest bell in Rome, dated 1069 and with a diameter of just 45 cm.
The façade was first redone in the late 17th century and then restored in 1844 in the Neoclassical style. The intimate and cozy interior has a nave and aisles divided by eight perusal columns with capitals which date from the 1st to the 5th centuries. In the vestibule preceding the entrance, a medieval door decorated with Cipollino columns and Cosmatesque mosaics gives access to a small oratory built around the 13th century. The little chapel has a trapezoidal plan and its vault rests on four columns with capitals thought to be of the 8th century: this is the well-known Chapel of the Virgin, named after the 14th-century painting depicting the "Virgin and Child" on the high altar. From here there is access to a very narrow cell, which tradition indicates as the home and place of penance of the young saint.
Information
Address
POINT (12.4769022 41.8891107)
Timetables
For the timetable of the masses and visiting conditions, please consult the contacts.
Contacts
Email:
info@sanbenedettoinpiscinula.it
Facebook:
www.facebook.com/sbpiscinula
Web site:
www.sanbenedettoinpiscinula.it

Condividi
Location
San Benedetto in Piscinula, Piazza In Piscinula, 40
41° 53' 20.7996" N, 12° 28' 36.8472" E
To find out about all accessibility services, visit the Rome accessible section.