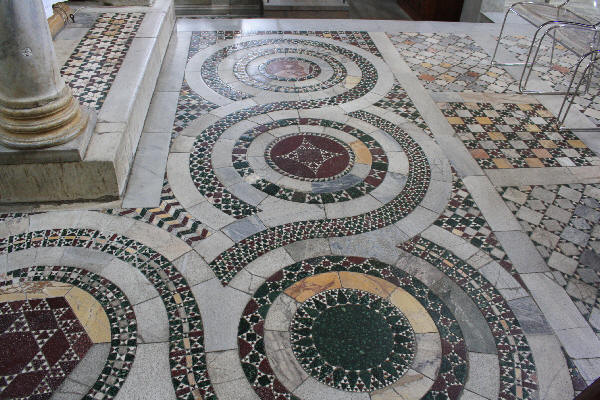 Several churches in Rome are embellished with decoration known as the "Cosmatesque Style", after the families of brilliant marble craftsmen, who in the 12th and 13th centuries used their craft technique to create a series of extraordinary compositions scattered throughout Rome's churches.
Some of the churches where you can admire their art are Santa Maria in Aracoeli, San Lorenzo fuori le Mura, San Clemente, Santa Maria in Cosmedin and Santa Maria in Trastevere.
Cosmati was the name given to the many members of the Cosma family. For generations in their workshops, they handed down the secrets of mosaic work, and its exceptionally inventive applications for the floors, cloisters and decoration of churches.
The fascination of Cosmatesque decoration owes much to the materials used, of which in particular the coloured glass – red, green, yellow and blue – and also ceramics and gold; materials that are brought to life in a dazzling kaleidoscope under sunlight and candlelight.
The Cosmati made extensive use of red and green porphyry for the floors cut in such a way as to produce circles and squares, which came from marble columns dating from antiquity. These geometric shapes were then arranged on the floor in a frame of white marble which, in turn, consisted of triangles, stars, lozenges and circles composed of multicoloured marble tiles.