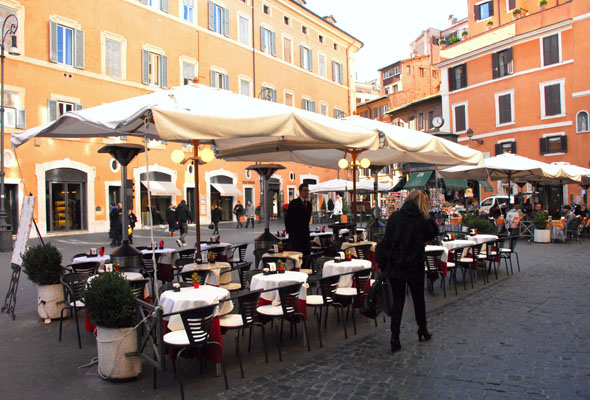 Not many people are aware that the very first Christian churches were "domus ecclesiae", a household church or private homes which wealthy owners open their doors to for believers to celebrate religious rites and find safe refugee from persecutions.
The Church of San Lorenzo in Lucina (IV – V century A.D.) was indeed one of these. It was dedicated to St. Lawrence the Martyr as late as in the XII century, when some relics (including the alleged grid-iron of the saint's martyrdom) were placed here.
But who was Lucina? Tradition has it she was a rich pious Roman matron, owner of the original home on which the church is built. However given Lucina was an epithet for Juno, the Roman Goddess of heaven and also protector of Roman women, it is feasible that the church may at one time have been a temple, a shrine dedicated to her.
The traffic-free highly attractive piazza, located in the Tridente district, is also inviting for visitors opting to take a leisurely walk or even take a well-deserved break in one of its fashionable bars.
Information
Address
POINT (12.478572 41.903645)

Condividi
Location
Piazza San Lorenzo in Lucina, Piazza di San Lorenzo in Lucina
Piazza di San Lorenzo in Lucina
41° 54' 13.122" N, 12° 28' 42.8592" E
To find out about all accessibility services, visit the Rome accessible section.