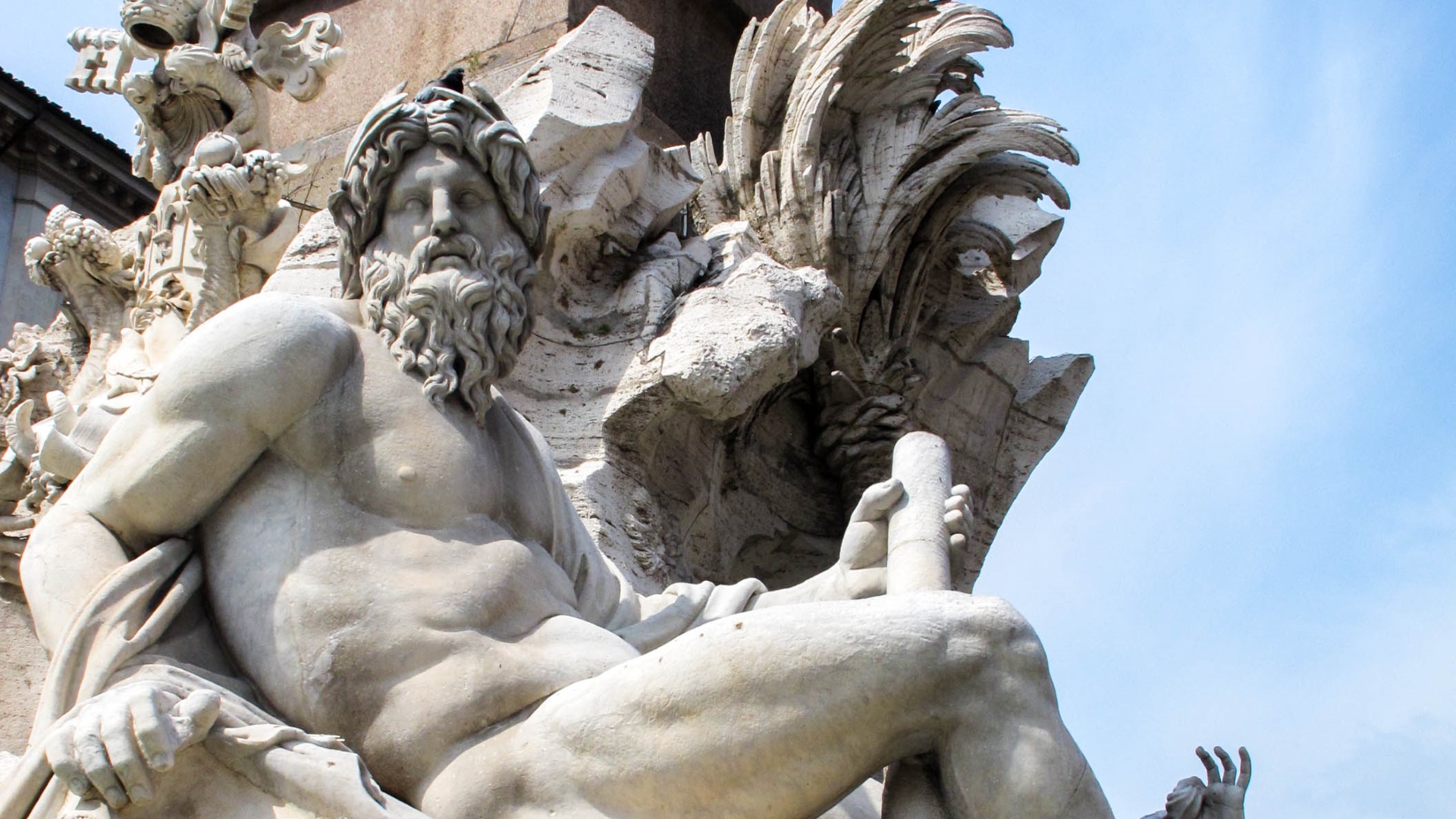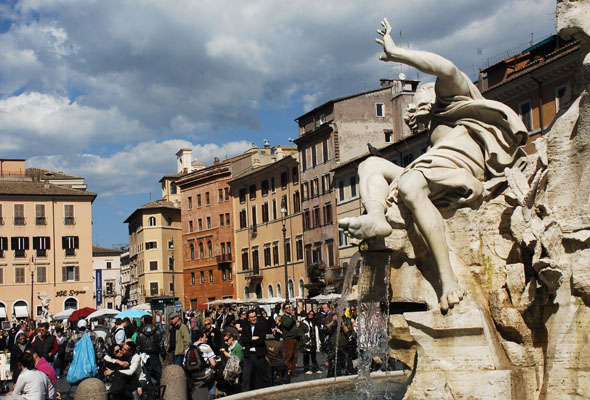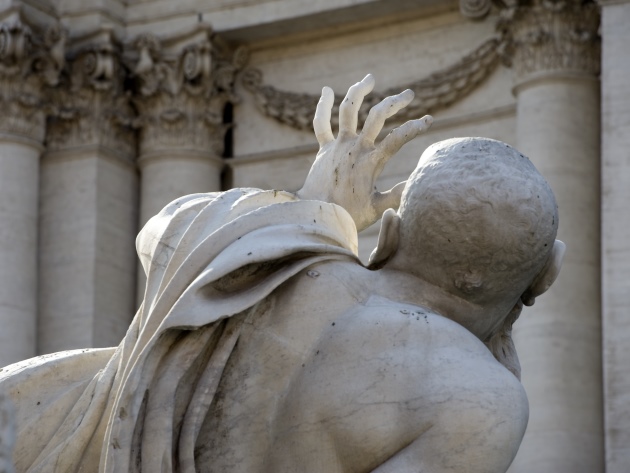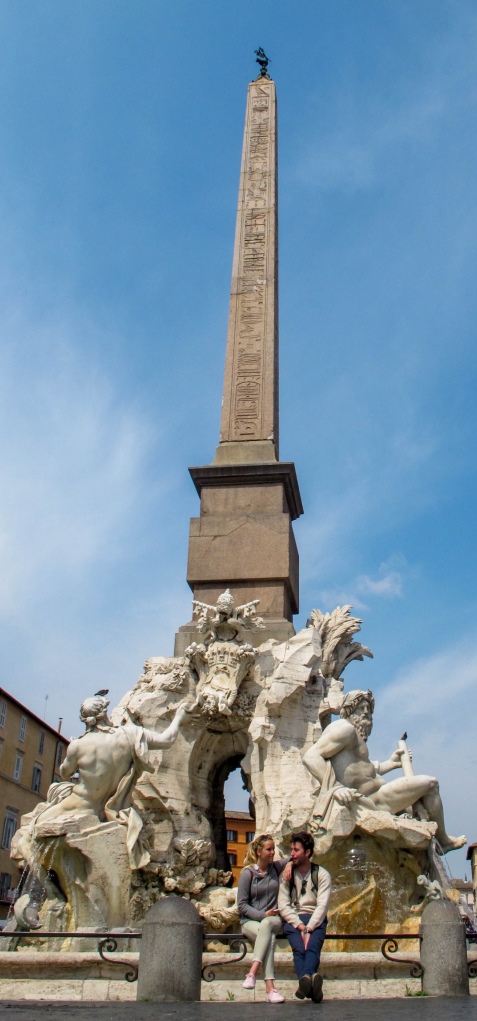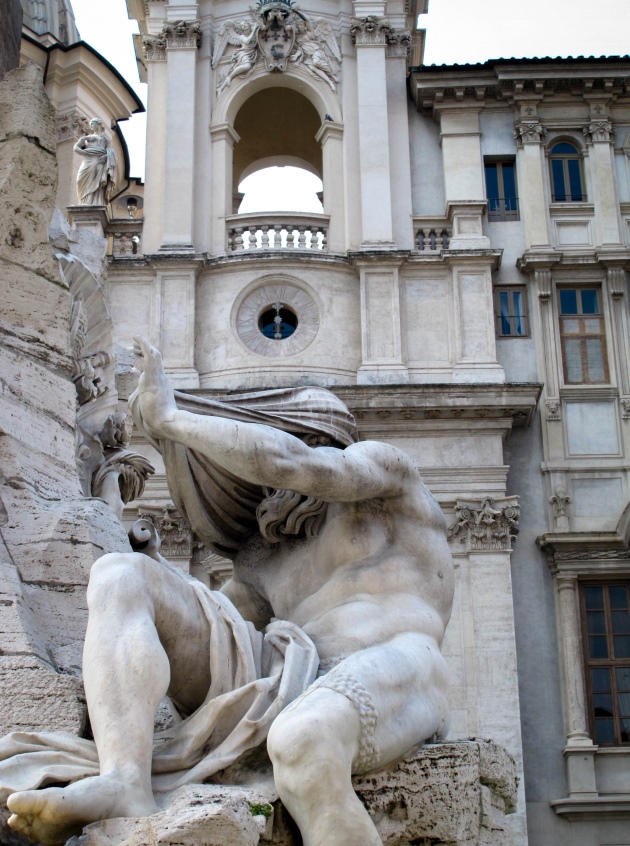 Commissioned by Pope Innocent X Pamphilj (1644-1655) to adorn the square that would have magnified the grandeur of his pontificate – with the monumental family palace and the nearby church of Sant'Agnese – it is one of the greatest masterpieces by Gian Lorenzo Bernini. The artist was commissioned for its realization after presenting a silver model of the new fountain and, for its execution, made use of a large group of artists and workers under his direct control: the result is a dynamic mix of architecture and sculpture and every detail conveys the concept of movement. 
A large travertine cliff supports a granite obelisk, coming from the area of the Circus of Maxentius on the ancient Appian Way. On the corners of the cliff there are four giant nudes that are the personification of the principal rivers of the continents known at the time. Each location is further enhanced by animals and plants of that country. The Danube by Antonio Ercole Raggi represents Europe, with an horse; Claude Poussin's Ganges represents Asia, with a long oar and dragon; Giacomo Antonio Fancelli's Nile, associated with the lion and the palm, represents Africa, with its veiled head because the source of the river had yet to be discovered; the Río de la Plata by Francesco Baratta represents America and has one arm raised (perhaps to shelter from the sun's rays) and an armadillo beside it. Overhead, at the top of the obelisk, is a dove, symbol of the Holy Spirit and emblem of the pope that commissioned the fountain.
Even if the fountain was built well before the church of Sant'Agnese, popular legend has it that the statue of the Nile is covering its head so as not to see the church of Sant'Agnese in Agone, designed by Bernini's great rival Francesco Borromini right in front of the Fountain; the Río de la Plata seems to raise its hand to defend itself from a possible collapse of the church and the statue of Sant'Agnese on the façade of the church, with her hand on her chest, seems to reassure the Río de la Plata of the church's stability.
The masterpiece was finally unveiled to the world on 12 June 1651.
Information
Address
POINT (12.472799 41.899237)
Contacts
Web site:
www.sovraintendenzaroma.it/i_luoghi/roma_medioevale_e_moderna/fontane/fontana_dei_quattro_fiumi_in_piazza_navona

Condividi
Location
Fontana dei Quattro Fiumi, Piazza Navona
41° 53' 57.2532" N, 12° 28' 22.0764" E
To find out about all accessibility services, visit the Rome accessible section.