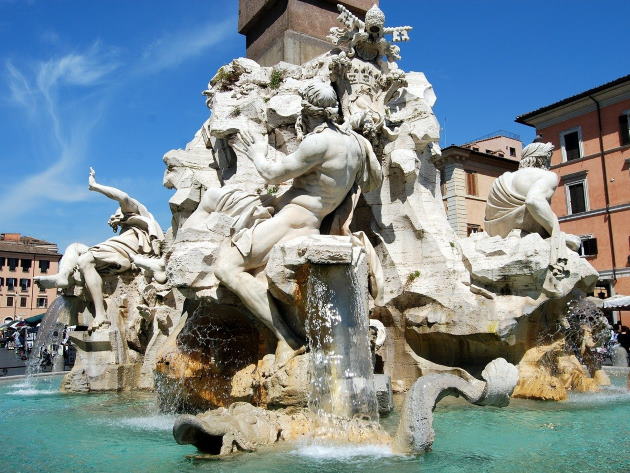 from 24 March 2021
to 31 May 2021
It is one of the iconic squares of Baroque Rome, with an uninterrupted succession of architectural and sculptural treasures and an enchanting atmosphere enhanced by the suggestion of the water of its fountains. And precisely its fountains have returned to shine after being freed from the signs of aging and wear caused by time and atmospheric agents. With the completion of the last conservative interventions, the Fountain of the Four Rivers, a masterpiece by Gian Lorenzo Bernini, and the Neptune and Moor fountains in Piazza Navona were in fact put back into operation and returned to the city in all their beauty.
The extraordinary and ordinary maintenance activities involved the disinfection and washing of all surfaces and the elimination of weeds; the metal elements were also treated and many grouting were restored. The most delicate operation was the repositioning of some fragments of the Fountain of the Four Rivers that had detached or were in the process of detachment, including those of the lion's jaw on the east side, fallen last August, of the wreath and of the foot right hand of the Ganges river, and some fingers of the left hand of the Río de la Plata. Further interventions concerned the legs of the sea horse on the south side of the Neptune fountain.
The monitoring of the conservation status of the surfaces was also carried out through an aerial platform: the visual analyzes and the detailed photographic documentation will provide useful data to plan the methods and costs of future restoration interventions, to be carried out within the next five years.

Condividi
You may also be interested in