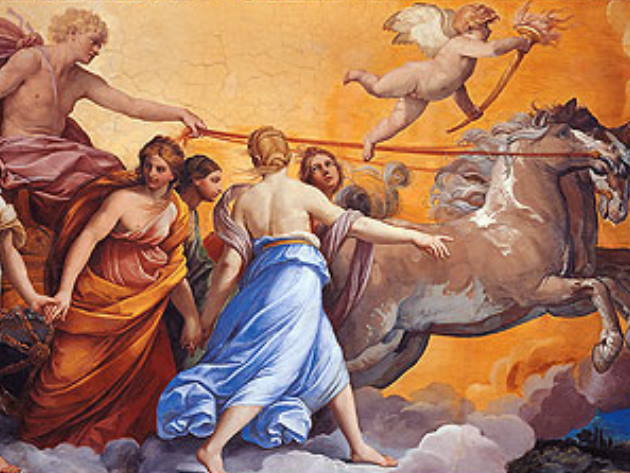 from 16 February 2022
to 31 December 2022
The famous fresco realized by the great master of 17th-century classicism between 1613 and 1614 in the beautiful Casino dell'Aurora in Palazzo Pallavicini-Rospigliosi returns to its splendour thanks to a restoration work presented in the last few days.
The work was commissioned to the artist by Scipione Borghese to decorate the vault of the central hall of the Roman Baroque jewel. The Casino was built over the ruins of the Baths of Constantine by Giovanni Vasanzio at the beginning of the 17th century as the cardinal summer residence.
The fresco is considered among the most admirable examples of European painting: the veiled Aurora scatters flowers on the earth while anticipating the chariot of the Sun pulled by four horses and driven by a splendid Apollo, surrounded by Phosphorus, the first-morning star, and from the Hours. Its grandeur is best appreciated when viewed through a mirror because it was made like a painting to hang.
The restoration, conducted by Laura Cibrario and Fabiola Jatta, was preceded by accurate scientific, documentary and photographic research. It revealed at least three previous restoration works, carried out as early as the first half of the 19th century. The intervention involved the removal of unsuitable stucco and a considerable pictorial reintegration, bringing to light the shiny and bright colours of the Bolognese painter.
The public can admire Reni's fresco on the first day of each month (except January) from 10:00 to 12:00 and 15:00 to 17:00 during the free opening of the frescoed hall.
More Info:.casinoaurorapallavicini.it
Photo: Affresco con l'Aurora, Guido Reni, detail, ph. Casino dell'Aurora Pallavicini Official Website

Condividi