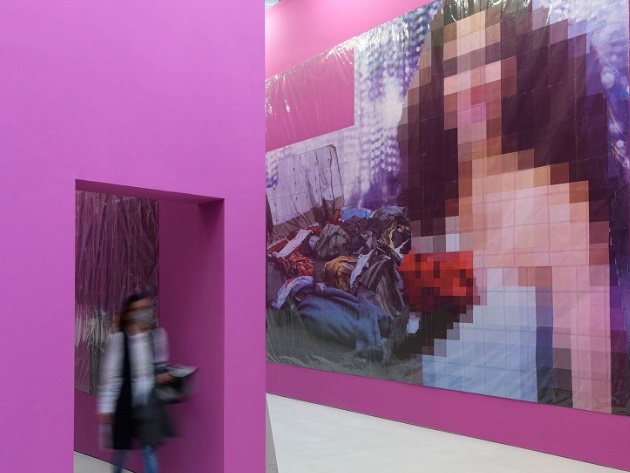 "The world needs to be de-pixelated." Thomas Hirschhorn
An imposing purple wall, 6 meters high and over 250 meters long, crosses the Gallery 3 of the museum designed by Zaha Hadid, imprisons the view, and disorients the look. The Purple Line is the long line created by one of the most famous and influential artists, Thomas Hirschhorn. Pixel-Collage is a monumental series of 121 works made between 2015 and 2017 that represent images of mutilated bodies in war zones, violent snapshots of massacres and conflicts collected on the web, combined with the collage technique to fashion advertising photographs from glossy magazines. The latter, however, are pixelated, while the photos of torn bodies are visible, without filters, often even in large formats. This reverses what usually happens in reality, in the media, in the network, and in social networks. Advertising images designed to capture attention are hidden from view. What is usually obscured and covered up because it is considered disturbing is revealed by the artist in all its raw truth. The Pixel becomes, therefore, the instrument that connects and creates links between things, between beauty and cruelty; it shortens the distance between two opposite realities belonging to the world in which we live.
But the central and predominant theme of this work is the censorship, the production, and control of images, and, above all, the spread of hypersensitivity in the contemporary world. And so the long purple line, specially designed by the artist, forces us to confront our limits, to challenge the maximum that sight and feelings can sustain, keeps attention alive. The continuous change of direction makes it impossible to predict where the path will end, and the crudeness of the images hurts the eyes without warning, without defense.
If the natural reaction is to look away from death, blood, fear, purple, the «pure color» par excellence forces us not to be distracted, to face what scares us, to bring our eyes back to the collages, to observe reality and to understand its harsh contradictions.
Informations
When
from 20 October 2021
to 6 March 2022
POINT (12.4652138 41.9277884)
Contacts
Online purchase:
https://maxxi.archeoares.it/
Web site:
www.maxxi.art/events/thomas-hirschhorn
Timetables
From 20 October 2021 to 6 March 2022
from Tuesday to Sunday from 11.00 to 19.00 (last admission at 18)
Saturday and Sunday from 11.00 to 20.00 (last admission at 19)
Closed on Monday 1st May and 25th December
For updates and visiting methods, consult the official website www.maxxi.art

Condividi
Location
Thomas Hirschhorn. The Purple Line, Via Guido Reni, 4 A
41° 55' 40.0368" N, 12° 27' 54.7704" E