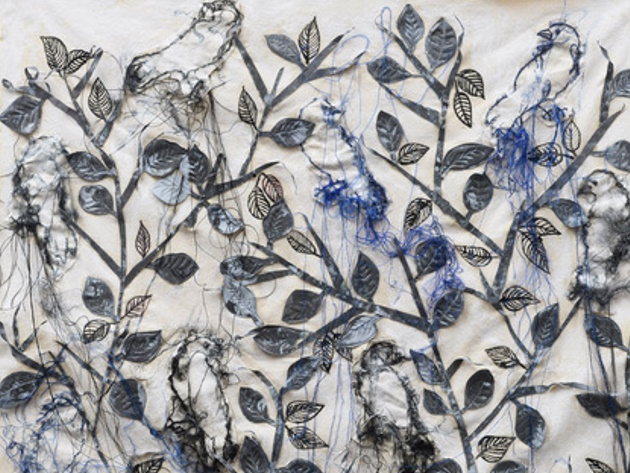 The refined rooms of the Casino dei Principi, a splendid architectural work in the neo-sixteenth-century style, hosts the retrospective Primarosa Cesarini Sforza. La Materia e il Perimetro (The Matter and the Perimeter).
The exhibition traces the artist's 50 years of activity and the crucial moments of her research marked by two inseparable coordinates: the continuous experimentation of techniques and materials that have shaped his creative process from the beginning to the long American period, the years in Italy and then the last few decades until today, and the use of memory, the pre-established border within which the artist confronts the material.
The exhibition presents the constant work of Primarosa Cesarini Sforza through drawings, paintings, installations, graphics, ceramics, and artist books.
The exhibit also features written inserts in which Cesarini Sforza recounts her biography, catalogs of her New York years, also catalogs and photographs showing how her works have been seen, sought after, and appreciated in many European countries and around the world, in New Delhi, Iran to Istanbul, Argentina.
An early career that made Primarosa Cesarini Sforza's career a predestined, having been born into a family of artists and collectors of the caliber of Cesarini Sforza, Cascella, and Canevari.
After studying at the Art Institute of Rome, she moved to the United States in 1966, fully participating in the artistic experiences and experiments of the period.
1968 was the year of her first exhibition in New York, the city where she continued to exhibit in galleries and institutions until the early 1980s and again in 2019 at Allan Stone Projects.
She has traveled and exhibited in many European cities, including Madrid, Cologne, Paris, Lisbon, and Bilbao, and outside Europe in Argentina, Iran, India, the United Arab Emirates, and Morocco.
Informations
When
from 5 April 2023
to 10 September 2023
POINT (12.511451 41.916074)
Contacts
Web site:
www.museivillatorlonia.it/mostra-evento/primarosa-cesarini-sforza-la-materia-e-il-perimetro
Timetables
Dal 5 aprile al 2 luglio 2023 - prorogata al 10 settembre 2023
dal martedì alla domenica ore 9.00 - 19.00
ultimo ingresso un'ora prima della chiusura
Giorni di chiusura: lunedì e 1° maggio
CONSULTA SEMPRE LA PAGINA AVVISI prima di programmare la tua visita al museo

Condividi
Location
Primarosa Cesarini Sforza. La materia e il perimetro, Via Nomentana, 70
41° 54' 57.8664" N, 12° 30' 41.2236" E