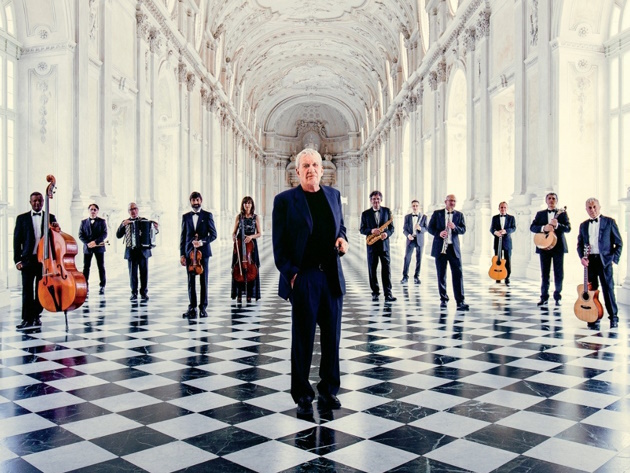 After the two sold-outs last summer, Paolo Conte returns to the Cavea of ​​the Auditorium Parco della Musica Ennio Morricone for the opening event of Roma Summer Fest 2023.
An unmissable show in which the irresistible charm and unmistakable vocal timbre of Paolo Conte will be accompanied by an orchestral ensemble of eleven outstanding musicians. Nunzio Barbieri (guitars), Lucio Caliendo (oboe, bassoon), Claudio Chiara (Alto Sax, Flute, Accordion, Keyboards), Daniele Dall'Omo (Guitars), Daniele Di Gregorio (Drums, Percussions, Marimba), Luca Enipeo (Guitars), Francesca Gosio (Cello), Massimo Pitzianti (Accordion, Bandoneon, Baritone Sax, Piano, Keyboards ), Piergiorgio Rosso (Violin), Pierre Steve Jino Touche (Double Bass), Luca Velotti (Soprano Sax, Tenor Sax, Flute, Clarinet).
The singer-songwriter will perform his most loved songs, including Hemingway, Sotto le stelle del Jazz, Come Di, Alle prese con una verde milonga, Aguaplano, Max, Gioco d'azzardo, Dancing, Madeleine, Genova per noi, Via con me, Reveries, Gli impermeabili, and Le chic et le charme.
Rome Summer Fest 2023 is one of the most important musical events of the Roman summer, which, every year, hosts numerous artists from the national and international music scene on the stage of the Cavea, who return to the capital for a series of extraordinary concerts.
Informations
POINT (12.4751908 41.9291165)
Contacts
Email:
info@musicaperroma.it
Telephone:
0039 06 80241281
Web site:
https://www.auditorium.com/it/event/paolo-conte/

Condividi
Location
Paolo Conte, Viale Pietro De Coubertin, 30
Viale Pietro De Coubertin, 30
41° 55' 44.8212" N, 12° 28' 30.6876" E