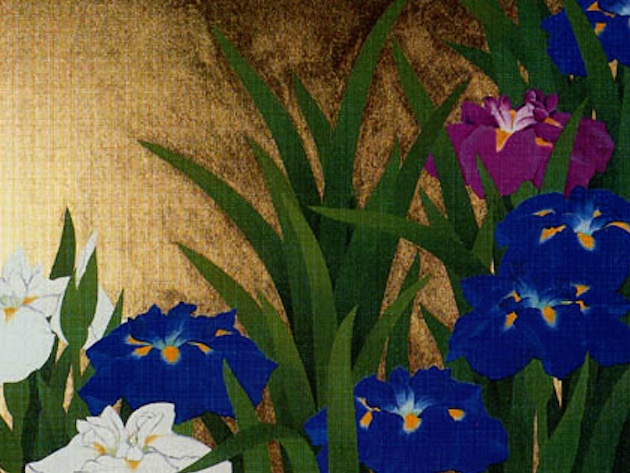 The exhibition The iris and the pumpkin celebrates the 60th anniversary of the Japanese Institute of Culture: the 24 exhibited works retrace the life and culture of the youngest institute in Valle Giulia, offering us an overview of Japanese art of the last century, with particular attention to post-war production. For the occasion, a selection of works from the Institute's collection is presented to the public, partly sent from Japan at its inauguration in 1962, partly the result of subsequent acquisitions.
In fact, following the Second World War, some emerging cultural movements in Japan felt the need to give life to an autonomous artistic expression, more linked to its national identity, and not based on the imitation of Western aesthetic concepts. In particular, the Gutai group (lit. "concrete"), formed in 1954, banned any form of imitation, in favor of a completely new art; its young representatives experienced an evolution of abstractionism, expressing themselves through the use of multiple materials. Furthermore, a few years earlier, in 1951, some exponents of the Association of Democratic Artists (Demokurāto bijutsu kyōkai), immediately shared a social idea of ​​art, and of its wider diffusion. For this purpose, on the trail of the pop phenomenon that developed in England and the United States, they chose screen printing as their main artistic expression, which resumed the aesthetic tradition of their country, following the example of Ukiyo-e prints.
In support of the exhibition, the ikebana of the three schools Ikenobo, Ohara and Sōgetsu which draw inspiration from the works on display, signed by the major modern and contemporary artists of Japan, such as Munakata Shikō, Ikeda Masuo, Dōmoto Inshō, Yokoo Tadanori, Lee U Fan and Teshigahara Sofu.
Guided tours calendar on the >SITE
Photo credits: courtesy of the Japanese Insitute of Culture official website online
Informations
When
from 26 January 2023
to 21 April 2023
POINT (12.480052 41.91852)
Contacts
Web site:
https://jfroma.it/liris-e-la-zucca/
Timetables
Dal 26 gennaio al 21 aprile 2023
dal lunedì al venerdì dalle 9 alle 12 e dalle 13.30 alle 17
opening/intro e sake mercoledì 25 gennaio ore 17-18.30
Chiuso il sabato e la domenica e i seguenti giorni:
il 23 febbraio – Genetliaco dell'Imperatore
il 21 marzo – Equinozio di Primavera

Condividi
Location
L'iris e la zucca, Via Antonio Gramsci, 74
41° 55' 6.672" N, 12° 28' 48.1872" E