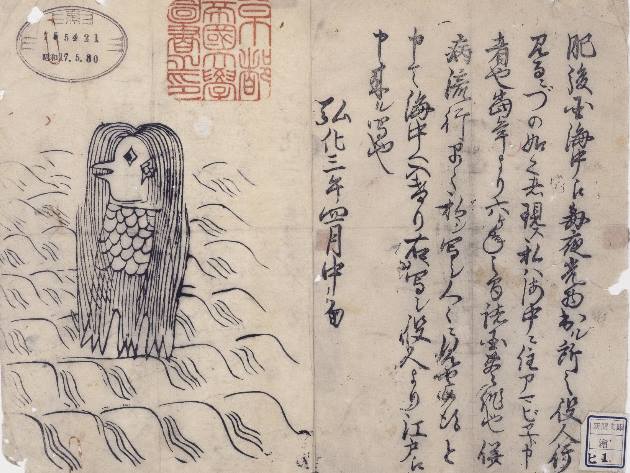 The Japan Cultural Institute in Rome hosts La parata degli yōkai (The parade of the yōkai), the international exhibition dedicated to supernatural creatures from Japan, created by the Japan Foundation.
The exhibition is curated by Yumoto Kōichi, in collaboration with the Yumoto Koichi Memorial Japan Yokai Museum (Miyoshi Mononoke Museum). It invites the public to explore the extravagant and complex Japan's all-time horror imagination.
The title is inspired by the classic theme of yōkai iconography of the same name, of which the Muromachi period scroll painting (1336-1573) attributed to Tosa Mitsunobu is the oldest example.
Also present in numerous stories - ad hoc characters to express supernatural forces, provoke surprise or arouse fear - over the centuries, the yōkai seem to have lost their original scary allure for a more reassuring image.
However, Japan has a strong interest in kaidan, ghost and supernatural stories, especially in Summer, when the yōkai are very popular on TV and in theatres all over the country.
The exhibition presents four sections, as well as columns and side stories. Section 1 - the spectacular universe of yōkai painting on the roll: the yōkai-themed painted rolls on washi paper - some over ten meters long - including the Hyakki Yagyō emaki, The night parade of One hundred demons. Many works: from humorous ones depicting creatures with human features and habits - marriage, birth and more - to products similar to illustrated books with pages dedicated to each monster, to scrolls inspired by local legends. Section 2 - the ultra-colourful world of yōkai: the development of printing techniques greatly influences the yōkai culture, which goes beyond the boundaries of hand painting. The culture of the supernatural becomes very familiar to the Japanese people. Funny, satirical creatures and ghosts colourful prints - the Nishiki brocade - circulate. Section 3 - Yōkai and Games:  during the Edo period, winking monsters appear on sugoroku, a Japanese chess board game, karuta cards and ukiyoe game prints, the so-called omochae, and other games that gradually collect more and more the favour of the little ones. Section 4 - Yōkai today: during the Meiji era, when Western culture entered Japan, the yōkai became the subject of academic study; gadgets and objects loved by children spread, including super cheap toys and sweets of all kinds. After the Second World War, they experience new notoriety, appearing in manga, anime, electronic games, and all technological media. An unstoppable parade!
Photo: Amabie dal mare della Provincia di Higo, 1846, replica Collection Main Library, Kyoto University
Informations
When
from 12 July 2021
to 22 October 2021
POINT (12.480052 41.91852)
Contacts
Facebook:
www.facebook.com/istitutogiapponesedicultura
Web site:
https://jfroma.it/la-parata-degli-yokai/?sfw=pass1625756937
Timetables
Dal 12 luglio al 22 ottobre 2021
LUGLIO lun – ven 9.00-12.30/13.00-16.30
AGOSTO chiuso al pubblico
Dal 1 settembre al 22 ottobre
lun – ven 9.00-12.30/13.30-17.00
Calendario visite guidate in aggiornamento

Condividi
Location
La parata degli Yōkai - creature soprannaturali dal Giappone , Via Antonio Gramsci, 74
41° 55' 6.672" N, 12° 28' 48.1872" E