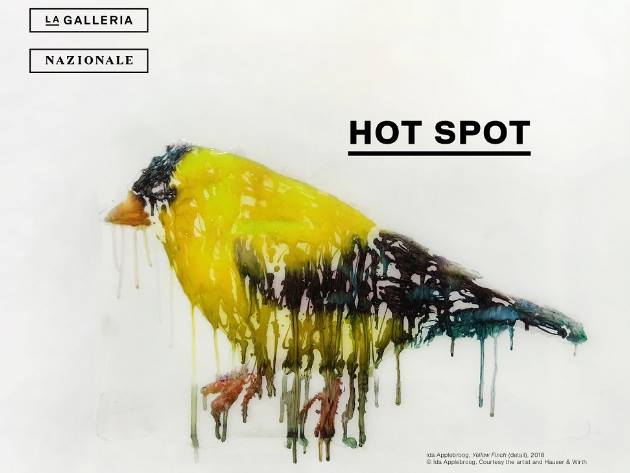 The National Gallery of Modern and Contemporary Art in Rome presents a new and interesting collective dedicated to the complex phase that our world is going through.
The exhibition takes its title from Hot Spot III - a 2009 creation by Lebanese artist Mona Hatoum, a large installation in iron and neon depicting the Earth lit by a red light, a symbol of the conflicts that make it incandescent. The work represents how the frenetic and overwhelming system of the organization of human society seems to lead to environmental catastrophe.
Through the strength of the works on display, Hot Spot - Caring For a Burning World represents a poetic and aesthetic activism of artists from all over the world and from different generations. The works aim to raise awareness and induce reflection for a better relationship with the planet.
The exhibition path, curated by Gerardo Mosquera, specially designed for the spaces of the Gallery, features works by artists such as Ida Applebroog, John Baldessari, Renata Boero, Johanna Calle, Pier Paolo Calzolari, Alex Cerveny, Sandra Cinto, Jonathas de Andrade, Mona Hatoum, Ayrson Heráclito, Ibeyi, Chris Jordan, Juree Kim, Glenda León, Ange Leccia, Cristina Lucas, Cecylia Malik, Gideon Mendel, Raquel Paiewonsky, Michelangelo Pistoletto, Alejandro Prieto, Davide Rivalta, Andrea Santarlasci, Allan Sekula, Daphne Wright, Rachel Youn, Luiz Zerbini.
Photo: Ida Applebroog, Yellow Finch (detail), 2018, © Ida Applebroog. Courtesy: the artist and Hauser and Wirth
Informations
When
from 24 October 2022
to 26 February 2023
POINT (12.482291 41.916317)
POINT (12.4809488 41.9177367)
Contacts
Web site:
https://lagallerianazionale.com/mostra/hot-spot-caring-for-a-burning-world
Timetables
Dal 24 ottobre 2022 al 26 febbraio 2023
Dal martedì a domenica dalle 9.00 alle 19.00
Ultimo ingresso 45 minuti prima della chiusura
Chiuso il lunedì, 1 gennaio e 25 dicembre
Per aggiornamenti e modalità di visita consultare il > sito ufficiale.

Condividi
Locations
Hot Spot – Caring For a Burning World, Viale delle Belle Arti, 131
Viale delle Belle Arti, 131
41° 54' 58.7412" N, 12° 28' 56.2476" E
Hot Spot – Caring For a Burning World, Via Antonio Gramsci, 71
41° 55' 3.8532" N, 12° 28' 51.4164" E