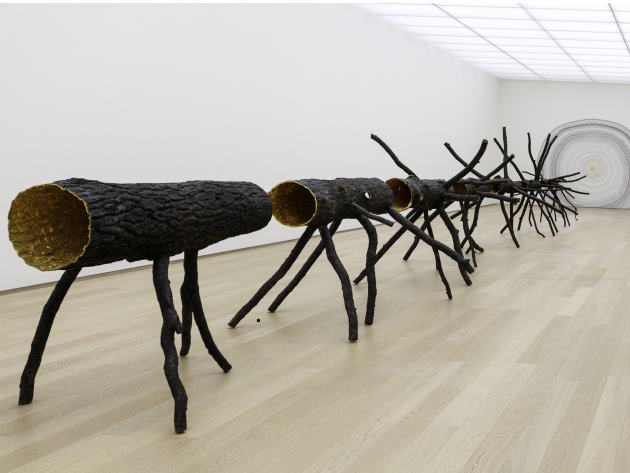 With over 30 works created between the 1970s and early 2000s by one of the most important exponents of Arte Povera, Galleria Borghese once again opens up to the contemporary, paying a tribute to the immutable vitality of sculpture and close relationship between men and nature that has always characterized the work of Giuseppe Penone.
In order to emphasize the symbiotic relationship between human and plant nature, the exhibition crosses some of the halls on the ground floor (Halls of Mariano Rossi, Apollo and Daphne, The Emperors and Aeneas and Anchises) to expand into the Garden of the Uccelliera (Aviary) and exceptionally into the Garden of the Meridiana (Sundial). In the halls, characterised by a triumph of marbles, sculptures and decorations, Penone adds an organic graft of leaves, leather, wood that connects and defines the two universes. In the Gardens, on the other hand, the integration looks to the world of metals, with bronze sculptures that dialogue with the rich surrounding vegetation, enriched by around forty new potted plants to support some of the works.
Distancing himself from any possible formal or symbolic confrontation with the Gallery, Penone's work observes matter by revealing the forms it conceals, with the intention of reactivating that natural osmotic exchange between the museum and the surrounding park that inspired many of the works part making up the museum's collection. The artist's interventions do not disrupt unique balance between form and architecture that characterizes the Galleria, but renew that entirely Baroque game that intertwined landscape, nature and sculpture, activating a new dialogue and making people reflect on the relationship with time and history.
Giuseppe Penone, Spazio di Luce, Space of Lights, 2008, ph. © Archivio Penone.jpg
Informations
When
from 14 March 2023
to 9 July 2023
Contacts
Web site:
https://galleriaborghese.beniculturali.it/exhibition/giuseppe-penone-gesti-universali/
Timetables
Dal 14 marzo al 28 maggio 2023 - prorogata al 9 luglio 2023
dal martedì alla domenica dalle 9.00 alle 19.00. Ultimo ingresso alle ore 17.45
Chiuso il lunedì
Per aggiornamenti e modalità di visita consultare il > sito ufficiale

Condividi