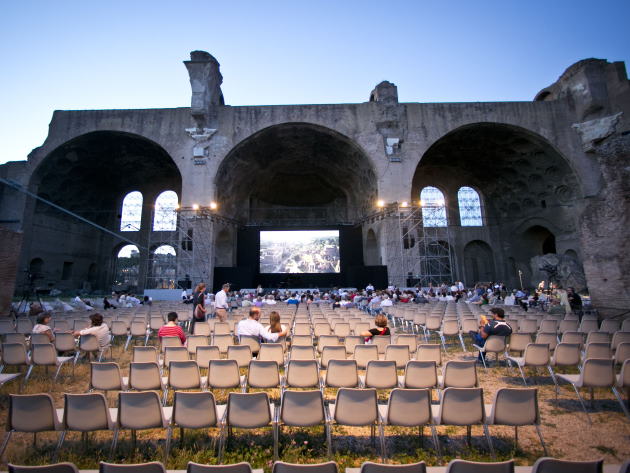 Seven evenings dedicated to the Father of the Italian language, a symbol of the Italian culture all over the world: seven centuries after Dante Alighieri's death, the Archaeological Park of the Colosseum in collaboration with Electa pays tribute to the Supreme Poet with a free Festival held in the Basilica of Maxentius, one of the most monumental buildings of the Roman Forum.
The program ranges from literature to figurative arts, from music to poetry, with readings from the Divine Comedy and Vita Nova, debates and musical passages, to celebrate Dante's work, its variety, depth and relevance. Opening the first evening is the Italian language scholar Giuseppe Antonelli, flanked by Francesco De Gregori and the musicians of Orchestra popolare italiana conducted by Ambrogio Sparagna. Chiara Valerio then gives life with Sergio Rubini and Michela Murgia to an impossible interview with Beatrice, following the one carried out by Umberto Eco in 1975. The musical performances of the rappers Murubutu and Claver Gold conclude the evening.
The following events, each with a different theme, see as protagonists, with unpublished texts, writers Piero Trellini, Giulio Leoni, Javier Cercas, Roberto Saviano, Melania Mazzucco, Alessandro Piperno, Aldo Cazzullo, Fabio Stassi, Edoardo Albinati, Stefania Auci and Nicola Lagioia. Among the guests of the Festival, also the actress Monica Guerritore, the scholars Lina Bolzoni, Giulio Ferroni and Franco Cardini and the poets Valerio Magrelli, Ana Blandiana, Daniela Attanasio, Silvia Bre, Nicola Bultrini, Claudio Damiani, Simone Di Biaso, Sara Ventroni. Dante's readings are entrusted to the voices of Valeria Solarino, Anna Bonaiuto, Maddalena Crippa, Giorgio Colangeli, Lucia Mascino, Lunetta Savino. Among the musical interventions, scattered throughout the evenings, Cristiano Godano, singer of Marlene Kuntz, violinist H.E.R. and the young artist Fulminacci.
Bookings are required through the Eventbrite platform; events can also be followed in streaming on the sites and social channels of the Archaeological Park, Rai Cultura and the Italian Writers' Federation, both partners of the event.
You may also be interested in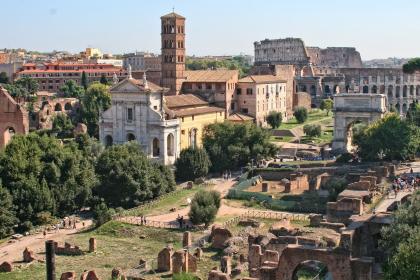 Parco Archeologico del Colosseo

Condividi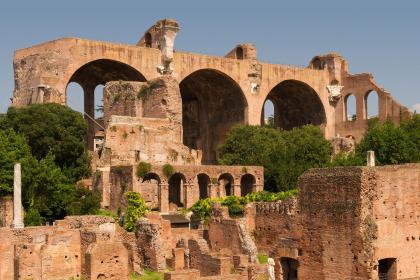 Condividi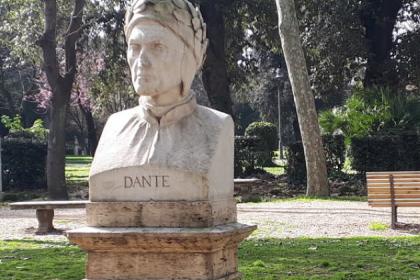 Following in Dante's footsteps: seven places to visit in Rome
A guide to Dante's places in Rome, linked to his work and his legacy
Informations
When
from 1 July 2021
to 20 July 2021
POINT (12.4902994 41.8912446)
Contacts
Facebook:
www.facebook.com/parcocolosseo
Web site:
https://parcocolosseo.it/evento/dante-assoluto-da-giovedi-1-luglio-il-festival-in-basilica-di-massenzio
Timetables
Dall'1 al 20 luglio 2021
Gli spettacoli possono essere seguiti anche in streaming sui siti e i canali social del Parco Archeologico, di Rai Cultura e della Federazione Unitaria Italiana Scrittori, entrambi partner della manifestazione.
Programma del Festival

Condividi
Location
Dante assoluto, Clivo di Venere Felice
41° 53' 28.482" N, 12° 29' 25.0764" E