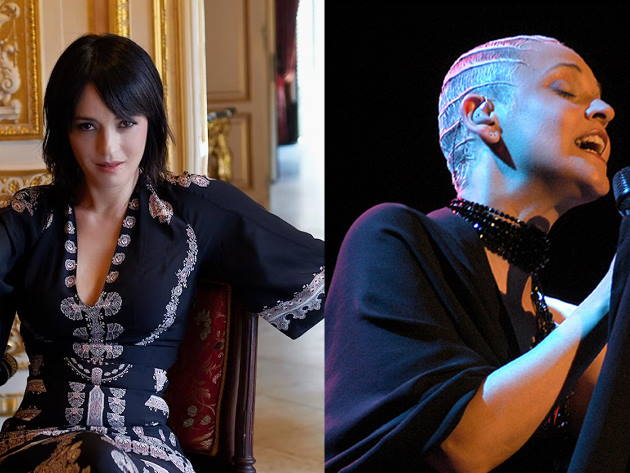 The two extraordinary interpreters perform on the same evening at the Auditorium Parco della Musica Ennio Morricone as part of the Roma Summer Fest 2023.
The artists take the stage of the Cavea for the preview of WOMAD Rome, the world's most important "World Music" festival, founded in 1980 by the great English rock musician Peter Gabriel.
Gritty and original voice, pure melodies, and lyrics inspired by mythology: Carmen Consoli is one of the most loved Italian singer-songwriters, capable of bringing Arabic and French into her songs. She was the first Italian artist to tread the stage of the Stadio Olimpico in Rome and the only Italian to participate in the celebrations of the anniversary of Bob Marley's death in Ethiopia.
Defined by Jon Parelles of the New York Times as a "magnificent combination of a rocker and an intellectual… a voice full of pain, compassion and strength", the Sicilian singer-songwriter boasts an extraordinary career studded with firsts: she was the first woman to win the Targa Tenco as Best Album of the Year with Elettra, the first woman invested with the role of Maestro Concertatore for the Concertone della Notte della Taranta, the only artist to have won the Amnesty International Italy Award twice with Mio zio e L'uomo nero.
The singer of Parole di Burro, L'ultimo Bacio, and Confusa e Felice was also named Goodwill Ambassador of Unicef ​​and Ambassador of the Telefono Rosa. On 24 September 2021, her ninth studio album, Volevo fare la Rockstar, was released in a triumph of critics and audiences: ten tracks, between dream and reality, were brought live on a completely sold-out tour.
The bond between Mariza and the poignant Lusitanian melody was written in destiny: born in 1973 in Mozambique, from the age of three, the singer grew up in Lisbon's Bairro Mouraria, a multicultural neighbourhood and the cradle of melancholic Portuguese traditional music.
Passion, sentiment and nostalgia with a warm voice and strong musical personality fot the artist who sings fado with a contemporary style, perfectly embodying its essence made of inconstant luck, absences and separations, destiny, pains of love, despair, whims of the heart and sadness of the saudade of a people and of their sense of belonging.
Today, the artist is considered one of the greatest Portuguese singers ever after Amália Rodrigues. She dedicated the album Mariza Canta Amália to the iconic queen of fado passed away in 1999, who was her great inspiration. 
Mariza boasts over twenty years of an extraordinary career: the singer has collected numerous awards and platinum records, conquering audiences around the world in unforgettable concerts, such as in the legendary performance in front of Lisbon Belém Tower, at the Barbican Center in London, Carnegie Hall in New York and the Sydney Opera House.
Photo: Ufficio Stampa Musica per Roma
Informations
POINT (12.4751908 41.9291165)
Contacts
Email:
info@musicaperroma.it
Telephone:
0039 06 80241281
Web site:
https://www.auditorium.com/it/event/carmen-consoli-mariza/

Condividi
Location
Carmen Consoli e Mariza, Viale Pietro De Coubertin, 30
Viale Pietro De Coubertin, 30
41° 55' 44.8212" N, 12° 28' 30.6876" E