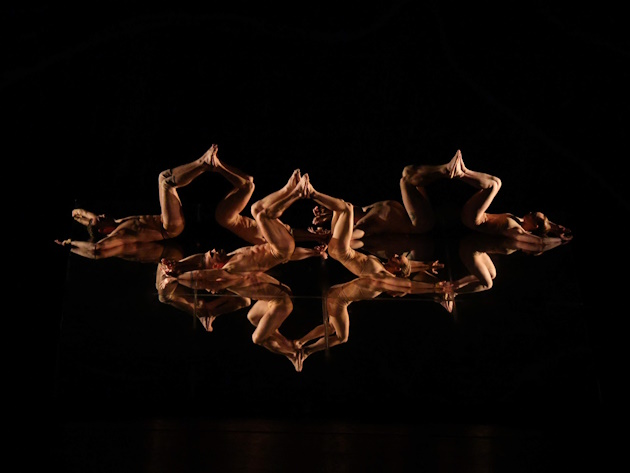 The Teatro Olimpico hosts the eagerly awaited return to the capital of the legendary Momix, the stars and stripes company of dancers-illusionists founded by Moses Pendleton.
With Back to Momix, a show born from the desire to return to the stage after the difficulties of recent years that have distanced them from their audience, Momix express their peculiar desire for lightness and light-heartedness, always looking to the future.
Here, then, is where the play on words in the show's title comes from, which recalls a classic of 80s cinematography. But the company, which is now 42 years old, seems not to notice the passing of time and defies gravity between the acrobatics of its incredible dancers and the transformism of its characters who evoke ever new sensations and colors thanks to the visionary genius of Moses Pendleton , charismatic artistic director and creator of countless successful shows.
Pendleton brings to the stage the most significant excerpts from the great classics that have marked the history of Momix, returned with new and lively intensity, from the historic Momix Classics, Passion, Baseball, Opus Cactus, Sunflower Moon, up to Bothanica and Alchemy.
Founded in 1980, and known throughout the world for its shows of great imagination and beauty, Momix is ​​capable of evoking a universe of surreal images by making human bodies, costumes, tools and plays of light interact.
The latest show born in the Momix house, Alice, made its debut for the Roman Philharmonic at the Teatro Olimpico in February 2019 and continued to enchant the audience with an extraordinarily successful tour in the most important Italian and world theaters.
In addition to the annual appearances at the Joyce Theater in New York, the company regularly tours Europe, the Americas, Australia and the Far East, also realizing, as usual, special and television projects.
In collaboration with the Accademia Filarmonica Romana.
The program may undergo changes
Informations
When
from 7 November 2023
to 19 November 2023
POINT (12.4617278 41.9265146)
Contacts
Facebook:
www.facebook.com/TeatroOlimpicoRoma
Online purchase:
https://teatroolimpico.ticka.it/dettaglio-spettacolo.php?negozio_spettacolo_id=1050,1048
Web site:
www.teatroolimpico.it/evento/back-to-momix
Timetables
Dal 7 al 19 novembre 2023
Dal martedì al venerdì ore 20.30
Sabato ore 16.30 e ore 20.30
Domenica ore 17.30 e ore 20.30

Condividi
Location
Back to Momix, Piazza Gentile da Fabriano, 17
Piazza Gentile da Fabriano, 17
41° 55' 35.454" N, 12° 27' 42.2208" E