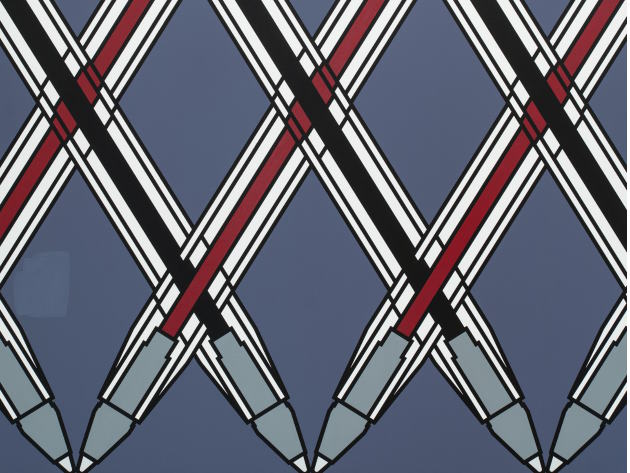 For his debut solo exhibition at Gagosian Gallery's Rome venue, British artist Adam McEwen presents to the public a series of new paintings centered on one of the icons of modern design, the ballpoint pen, ubiquitous in people's lives until the recent past. The acrylic paint used for the paintings, with dimensions that are slightly larger than those of a tall person and a monochrome background, accentuates both the linear aspect and the creative potential of these objects, decontextualized from the everyday and transformed into works of art with a process already used by Dadaism and Pop Art.
With their solid colors and two-dimensionality, McEwen's ballpoint pens pay homage to past art and history. The exhibition's title in Roman characters reminds us of the current year, while the purplish backgrounds of some works, with hues ranging from lavender to purple, are a reminder of the robes of senators and emperors and liturgical vestments. The largest painting in the exhibition, Big Spear, recollects the jumble of lances in Paolo Uccello's Battle of San Romano, a key work by the Renaissance master preserved in the Uffizi museum in Florence. A group of paintings is then dedicated to one of the city's most famous symbols, the Colosseum: the arrangement of the pens in these works takes the form of the cross in Colosseum No.1, the self-devouring Ouroboros in Colosseo No.3, and the figure 8 or infinity sign in Colosseo No.5, symbols that resonate with the history of Rome and beyond.
Born in London in 1965 and relocated to New York since 2000, Adam McEwen is a wry and brilliant outsider in contemporary art. His works are included in the collections of the Arts Council Collection in London, the Solomon R. Guggenheim Museum and the Metropolitan Museum of Art in New York, among others.
Artwork © Adam McEwen, Photo: Rob McKeever, Courtesy the artist and Gagosian
Informations
When
from 1 February 2023
to 22 April 2023
POINT (12.485871 41.90469)
Contacts
Facebook:
www.facebook.com/Gagosian
Timetables
Dal 1 febbraio al 22 aprile 2023
Dal martedì al sabato dalle ore 10.30 alle 19.00

Condividi
Location
Adam McEwen - XXIII, Via Francesco Crispi, 16
41° 54' 16.884" N, 12° 29' 9.1356" E