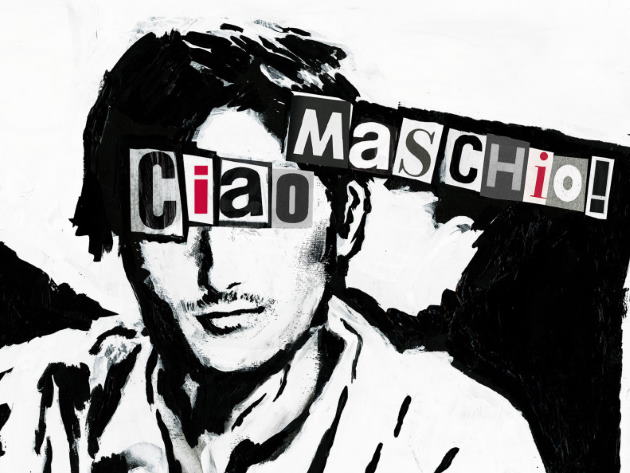 Over 100 works to describe the evolution of man's role and identity from the late 19th century, in particular from the second half of the 1960s to today, and how these changes have influenced the arts. With a title that is an explicit homage to Marco Ferreri and his 1978 film, the exhibition reflects on the way of being, thinking and representing man, highlighting the problems and internal contrasts in the representation of the male figure through paintings, sculptures, graphic design, photographs, art and experimental films, videos, video-performances and installations from the Galleria d'Arte Moderna, the Museo di Roma in Palazzo Braschi, MACRO, MAXXI and other public and private institutions.
Open and closed by two site-specific urban installations, Contemporary Gods by street artist Pax Paloscia and Till Death Tears Us Apart by urban artist Mark Jenkins, the exhibition is organized in thematic sequences, with works by Balla, Scipione, Franco Angeli, Fabio Mauri , Mario Schifano, Guttuso, Pascali, Warhol, Scialoja, Ontani, Shepard Fairey, just to name a few. In the opening section, The face of power, of particular significance is the inclusion, after a extremely long time, of Ritratto del Sindaco Onorato Caetani (1906-1910) by Giacomo Balla, side by side for the first time with another portrait of Mayor Caetani, again by Balla, from 1912. Special space is given to political power of the 20th century, between East and West, with portraits of American Presidents side by side with those of Lenin, Mao, Khruschev and Ho Chi Min. The official portraits of Hitler, Mussolini and Stalin are inevitably at the center of the section The face of terror. The exhibition continues with the sections Male identity and Cult of the body and sporting principles. Finally, the feminine gaze on men animates the section Men seen by women, with works by Lisetta Carmi, Elisabetta Catalano, Agnese De Donato, Rosa Foschi, among others.
The exhibition also includes a collection of art films titled "Un supermaschio" - A Supermale, dedicated to experimental Italian cinema of the 60s and 70s, through which the viewer investigates the male filmic "super-ego" of this period. From July to October, events will be organised in support of the exhibition, featuring open-air events, talks and readings in GAM's cloister-garden and in the Casa del Cinema, aiming to widen the thematic gaze towards other forms of artistic language, with multi-vocal activities which span from poetry to literature, from action to theatre.
EXHIBITED ARTISTS
Claudio Abate, Vito Acconci, Valerio Adami, Franco Angeli, Giacomo Balla, Gianfranco Baruchello, Mirella Bentivoglio, Vinicio Berti, Umberto Bignardi, Tomaso Binga, Felice Carena, Lisetta Carmi, Elisabetta Catalano, Claudio Cintoli, Gino De Dominicis, Giorgio de Chirico, Agnese De Donato, Willem De Kooning, Shepard Fairey, Flatz, Rosa Foschi, Franco Gentilini, Gilbert & George, Guerrila Girls, Alberto Grifi, Renato Guttuso, Mark Jenkins, Alfredo Leonardi, Carlo Levi, Sergio Lombardo, Urs Luthi, Renato Mambor, Carlo Maria Mariani, Fabio Mauri, Alessandra Mercadini, Ugo Nespolo, Luigi Ontani, Pax Paloscia, Pino Pascali, Luca Maria Patella, Giuseppe Penone, Anders Petersen, Lamberto Pignotti, Cristiano Pintaldi, Fausto Pirandello, Michelangelo Pistoletto, Gerhard Richter, Piero Sadun, Franco Sarnari, Giulio Aristide Sartorio, Howard Schatz, Mario Schifano, Toti Scialoja, Scipione, Gino Severini, Cesare Tacchi, Tato, Paolo Ventura, Francesco Vezzoli, Andy Warhol, Erwin Wurm, Alba Zari and others.
Informations
When
from 23 June 2021
to 14 November 2021
POINT (12.485674 41.904062)
POINT (12.4865721 41.9037349)
Contacts
Web site:
www.galleriaartemodernaroma.it/mostra-evento/ciao-maschio-0
Timetables
From 23 June to 14 November 2021
From Tuesday to Sunday 10.00-18.30
Last admission half an hour before closing
Closing days: Monday
Before planning the visit, CONSULT THE NOTICES

Condividi
Locations
«Ciao maschio». Volto, potere e identità dell'uomo contemporaneo, Via Francesco Crispi, 24
41° 54' 14.6232" N, 12° 29' 8.4264" E
«Ciao maschio». Volto, potere e identità dell'uomo contemporaneo, Via Zucchelli, 7
41° 54' 13.446" N, 12° 29' 11.6592" E