Designed and built to mark the terminus of the Trajan Aqueduct, between 1610 and 1614, by architects Giovanni Fontana (1540-1614) and Flaminio Ponzio (1560-1613) and Ippolito Buzio (1562-1634), sculptor, the fountain was commonly known as the Janiculum Fountain because it dominates the large terrace there that overlooks the city.  It was commissioned by Pope Paul V of the Borghese family and it is their emblems – dragons and eagles – that can be seen in several places around the fountain itself. It comprises five archways flanked by columns and topped with a large pediment complete with dedicatory inscription.  White and multi-coloured marble stripped from the Roman Forum and the Temple of Minerva in the Forum of Nerva was used for the decorative elements of the fountains, whilst its red and grey columns used to be part of the St. Peter's Basilica dating to the Constantine era. Towards the end of the 17th century, the architect Carlo Fontana (1638-1714) altered the fountain's facade into what it is today and a monumental semi-circular marble basin was added, substituting the five original basins located between the arches.
You may also be interested in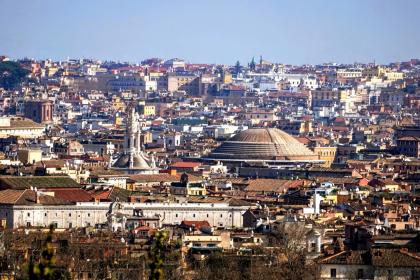 Condividi
The Botanical Garden of Rome

Condividi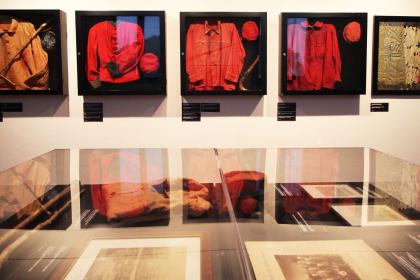 Museo della Repubblica Romana e della Memoria Garibaldina

Condividi
Information
Address
POINT (12.4643036 41.8890181)
Timetables
The front of the Fontanone is always visible for free.
You can also visit the garden behind the Fontanone dell'Acqua Paola by reservation only.
Open to organized groups by reservation only.
Max. 25 people per group.
Phone Booking required: 060608 (daily from 9.00 to 19.00)
For individual visitors, always by reservation at the 060608, it is also possible to visit independently according to a calendar specified on the page > Monumenti del territorio
Contacts
Web site:
www.sovraintendenzaroma.it/i_luoghi/roma_medioevale_e_moderna/fontane/mostra_dell_acqua_paola_al_gianicolo

Condividi
Location
Fontana dell'Acqua Paola (Fontanone del Gianicolo), Via Garibaldi
41° 53' 20.4648" N, 12° 27' 51.4944" E
To find out about all accessibility services, visit the Rome accessible section.