On a side of the small square before the church of San Marco, a nice travertine fountain overlooking Piazza Venezia reminds us that we are in the Rione Pigna. According to tradition, the area was named after the colossal bronze pine cone (Pigna means pine cone in Italian) that is now in the Belvedere Courtyard of the Vatican Museums and which was found in this area in Middle Ages, among the ruins of the Agrippa Baths.
However, the history of this particular fountain begins in more recent times, in the 1920s. In 1926, when the Municipality of Rome launched a competition to replace the cast iron fountains, considered unsightly and unsuitable for the historic center of the city, the task of designing a group of artistic fountains meant to embellish the districts of Rome (and to emphasize at the same time their historical identity) was entrusted to the architect and sculptor Pietro Lombardi. The result was nine small masterpieces inspired by the ancient banners, the emblems, the symbols, the characterizing elements of each rione: the Fontana dei Libri (Fountain of Books) in Rione Sant'Eustachio; the Fontana delle Anfore (Fountain of the Amphorae) in Rione Testaccio, the Fontana degli Artisti (Fountain of the Artists) in Rione Campo Marzio, the Fontana delle Tiare (Fountain of the Tiaras) and the Fontana delle Palle di Cannone (Fountain of the Cannon Balls) in Borgo (together with the one in Piazza Scossacavalli, dismantled in 1937 with the demolition of the Borgo spine and moved in 1964 to Via Cassia), the Fontana dei Monti (Fountain of the Mountains) in Rione Monti, the Fontana della Botte (Fountain of the Barrel) in Trastevere, the Fontana del Timone (Fountain of the Helm) in Rione Ripa, and lastly this Fontana della Pigna. 
Simple and elegant despite its modest size, the fountain is fed by the Acqua Marcia aqueduct and consists of a small basin with a stem in its center. Two stylized tulip corollas support the pine cone symbolizing the rione. The water gushes from side taps and from the top of the pine cone, gathering at multiple levels and finally landing in two small ponds at the ground level, surrounded by four wayside posts. The water is as always drinkable and available to tourists and citizens.
You may also be interested in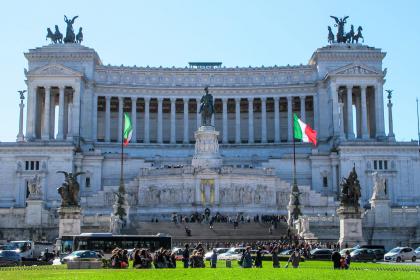 Condividi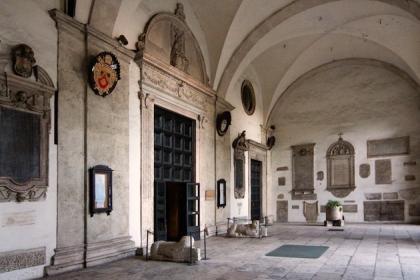 Basilica of San Marco Evangelista at the Campidoglio

Condividi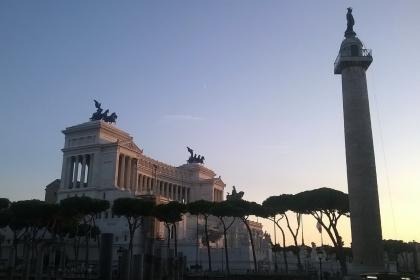 Monument to Vittorio Emanuele II (Vittoriano)

Condividi
Information
Address
POINT (12.482044 41.89579)

Condividi
Location
Fontana della Pigna, Piazza di San Marco
41° 53' 44.844" N, 12° 28' 55.3584" E
To find out about all accessibility services, visit the Rome accessible section.