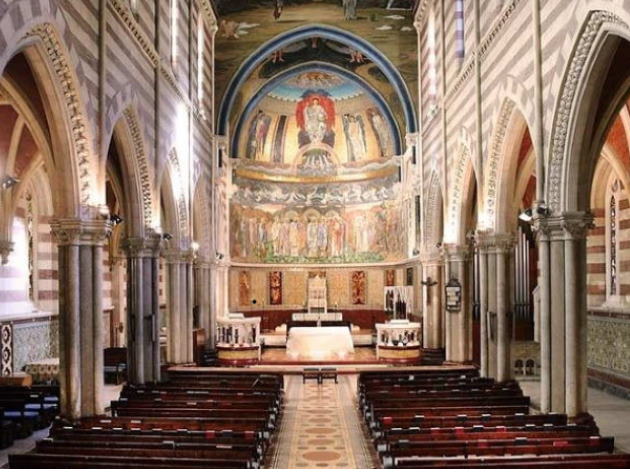 The American Episcopal (Anglican) church is the first non-Catholic religious architecture built in Rome after the unification of Italy and the end of the temporal sovereignty of the Popes, when freedom of worship was finally granted within the city walls. Based on a project by architect George Edmund Street and commissioned by Reverend Robert J. Nevin, head of the religious congregation in Rome and a passionate art collector, the construction of Saint Paul's within the Walls was started along the new Via Nazionale. It's a unique testimony in Italy for the English artistic "Arts and Crafts" movement – which aimed to reform the arts, re-evaluating craftsmanship against industrial production – and one of the most interesting works of sacred art in late 19th century Rome. On 25 January 1873, the feast of the Conversion of St. Paul, the first stone was laid.
A mixed Romanesque-Gothic style and a peculiar play of colors between the red of the brick layers and the white of the travertine characterize the exterior of the church and the bell tower with two- and three-light mullioned windows. Splendid mosaics are placed around the rose window and the portal: made in the early 20th century, they depict the four evangelists and St. Paul held prisoner by Roman soldiers and are the work of the American artist George Breck.
The interior, divided into three naves, shows a refined decorative apparatus, to which the major representatives of English art of the time contributed: illuminated by stained glass windows with stories from the life of St. Paul made expressly for the church by the English firm Clayton & Bell and embellished on the walls by majolica attributed to William Morris. The mosaics in the apse and the choir are the work of the pre-Raphaelite Edward Burne Jones who designed the cartoons entrusting a company in Murano with the realization of the mosaic tiles. They are of such recognized value artistically that the Church has been designated a National Monument by the Italian Government. Some saints and fathers of the Church are depicted with the features of contemporary historical characters: Abraham Lincoln is Saint Andrew, Giuseppe Garibaldi is Saint James and Saint Patrick looks like Ulysses S. Grant, one of the protagonists of the American Civil War.
Information
Address
POINT (12.493894 41.901131)
POINT (12.4938928 41.9010718)
Timetables
 For the timetable of the masses and visiting conditions, please consult the contacts
Contacts
Email:
office@stpaulsrome.it
Facebook:
www.facebook.com/StPaulsWithintheWalls/?ref=bookmarks
Instagram:
www.instagram.com/stpaulswithinthewalls
Web site:
www.stpaulsrome.it

Condividi
Locations
Church of San Paolo entro le Mura - St. Paul's within the Walls, Via Nazionale, 16a
41° 54' 4.0716" N, 12° 29' 38.0184" E
Church of San Paolo entro le Mura - St. Paul's within the Walls, Via Napoli, 58
41° 54' 3.8592" N, 12° 29' 38.0148" E
To find out about all accessibility services, visit the Rome accessible section.