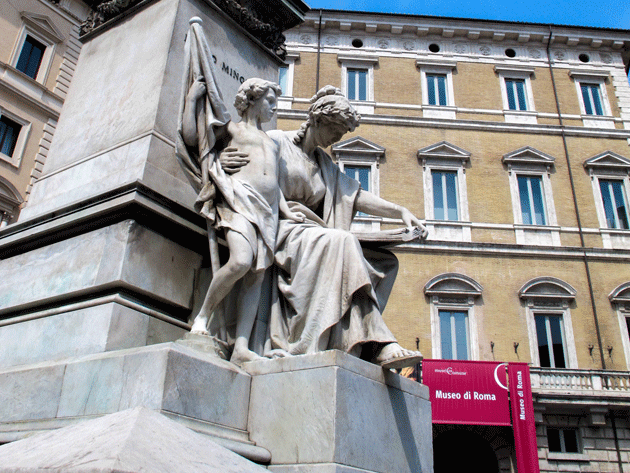 Palazzo Braschi is located in the city centre, between Piazza Navona and Corso Vittorio Emanuele II; designed by the Imola-based architect Cosimo Morelli (1732-1812) at the behest of Pope Pius VI (1775 - 1799), it was the last of the Roman palaces to be commissioned by a Pope for his family.
It became the property of the Italian State in 1871 and was first assigned to the seat of the Ministry of the Interior, then of the Fascist Federation of the City and finally, from 1949, of the Museum of Rome which is still there.
The Baroque-Neoclassical style building has a trapezoidal shape and is divided into three floors, one of which is a basement. On the main façade, on Piazza San Pantaleo, there are two large columns of cipollino marble at the sides of the door supporting a long balcony; above the door stands the Braschi coat of arms.
Inside, the quadrangular courtyard recalls in shape those of the Royal Palace of Caserta by Vanvitelli. From the atrium on Via di San Pantaleo you enter a staircase of honor adorned with ancient statues which are what remains of the precious, but now dispersed, Braschi collection. Attributed to Valadier, it is decorated with bas-reliefs by Luigi Acquisti.
Photo credits: courtesy of  Braschi Palace official site
You may also be interested in

Condividi
The most iconic square of Baroque Rome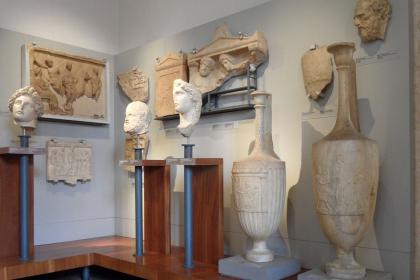 The Giovanni Barracco Museum of Ancient Sculpture

Condividi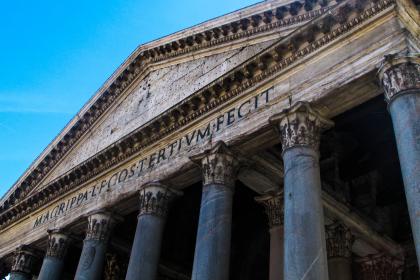 Condividi
Information
Address
POINT (12.472846 41.897028)
Timetables
Palazzo Braschi is open with the same opening times of the Museum of Rome.

Condividi
Location
Palazzo Braschi, Piazza di San Pantaleo, 10
Piazza di San Pantaleo, 10
41° 53' 49.3008" N, 12° 28' 22.2456" E
To find out about all accessibility services, visit the Rome accessible section.