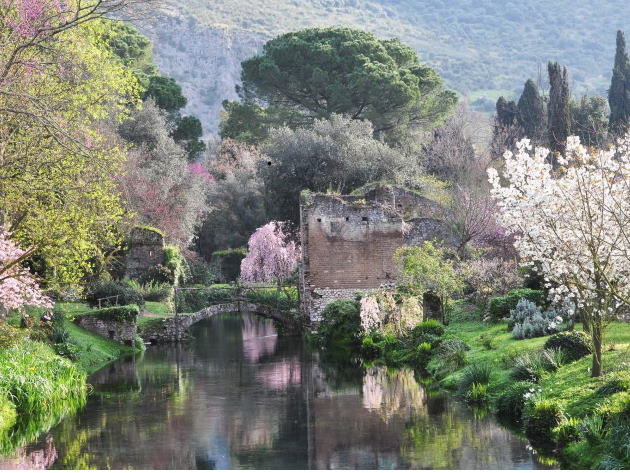 from 1 May 2021
to 1 November 2021
The most romantic garden in the world according to the New York Times, built on the ruins of the ancient medieval town of the same name exactly a century ago by the Caetani family, opens to the public starting from 1 May.
Until 1 November, on Saturdays and Sundays it will be possible to walk in the approximately eight hectares of this fabulous microcosm, one of the wonders of the Italian landscape heritage, and be amazed by its endless beauty and the silence of nature. Cherry and ornamental apple trees that bloom spectacularly in spring, magnolias, birches, climbing hydrangeas and irises are just some of the 1,300 species from all over the world housed in the garden, dotted with streams and ponds and enlivened by the chirping of an infinite variety of birds. Plants and flowers also climb on the ancient walls, further enhancing the charm of the ruins left to testify the millennial past of the town, besieged, sacked and razed to the ground in 1380 and never rebuilt.
In order to preserve its delicate environmental balance and biodiversity, openings to the public are limited and entry is regulated by guided tours. For more details, please check the official website of the garden, where it is possible to buy tickets and find specific information on visits and changes in the event of emergency measures. For visitors residing outside the Lazio region, reference is made to the provisions governing travelling.

Condividi