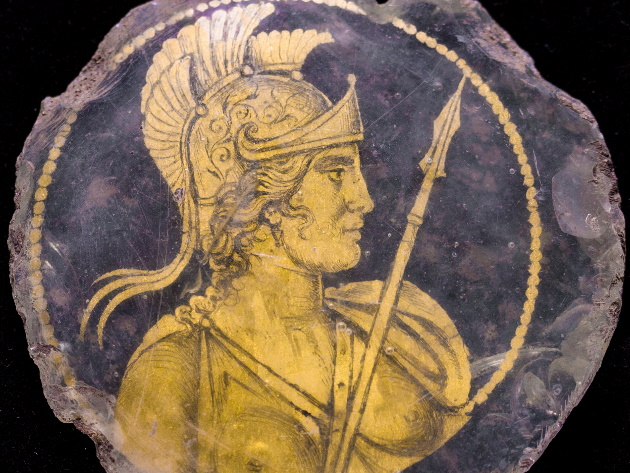 On display for the first time, the golden glass with the personification of the city of Rome found during the excavations for the construction of the Metro C station at Porta Metronia.
During the works still in progress for the construction of the Porta Metronia Metro C station, a fragment of glass was found, originally the bottom of a glass or a cup bearing the image of the personification of the city of Rome depicted on a leaf gold and represented, according to widespread iconography, with a helmet and spear.
The excellent workmanship of the piece, datable to the 4th century, in the full imperial age, was immediately evident. It is also unique, as no other glass finds decorated with this iconography are currently attested.
The exhibition, created by the Capitoline Superintendency in collaboration with the Special Superintendence of Rome for Archaeology, Fine Arts and Landscape, therefore represents an extraordinary opportunity for the public of the Capitoline Museums to be able to admire a piece of great importance from a historical-artistic point of view, as well as having an evident symbolic value for the city of Rome.
Precisely in consideration of the high representative value that the representation has, the image was used as an model of the commemorative medal traditionally minted on the occasion of the Birth of Rome.
Informations
When
from 21 April 2023
to 1 October 2023
POINT (12.483342 41.892692)
POINT (12.482211 41.893485)
Contacts
Web site:
www.museicapitolini.org/mostra-evento/vrbs-roma
Timetables
From April 21 to October 1, 2023
Every day 9.30 - 19.30
Last admission one hour before closing time
Closed: 1 May
Before planning the visit, CONSULT THE NOTICES

Condividi
Locations
VRBS ROMA, Piazza del Campidoglio, 1
Piazza del Campidoglio, 1
41° 53' 33.6912" N, 12° 29' 0.0312" E
VRBS ROMA, Via delle Tre Pile, 1
41° 53' 36.546" N, 12° 28' 55.9596" E