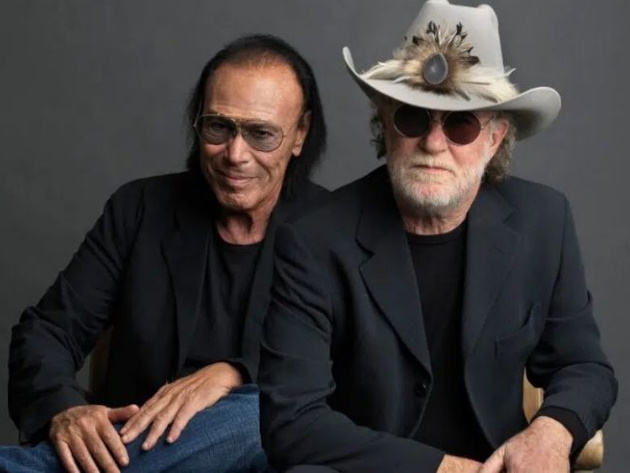 It all began in 1972 when Antonello Venditti and Francesco De Gregori's lives crossed in the album Theorius Campus, in which the two musicians alternate in writing unforgettable songs such as Sora Rosa by Antonello Venditti.
The rest is history. After that record, the careers of the two artists separated, and they became two milestones in songwriting.
Today, fifty years later, the two Italian legends have given rise to a historical tour that brings them together on the most prestigious stages. In front of an ecstatic audience, they sing their most significant hits, not just any songs, but songs that entered our hearts, sounding like authentic soundtracks, the highlights of our lives for generations.
The artists return to Rome for four extraordinary concerts on the suggestive stage of the Baths of Caracalla, accompanied by the singers Laura Ugolini and Laura Marafioti, Fabiana Sirigu on violin, and a band that unites for the first time the musicians who for years have collaborated separately with the two artists: Alessandro Canini (drums), Danilo Cherni (keyboards), Carlo Gaudiello (piano), Primiano Di Biase (Hammond), Fabio Pignatelli (bass), Amedeo Bianchi (sax), Paolo Giovenchi (guitars), and Alessandro Valle (pedal steel guitar and mandolin).
Photo: Terme di Caracalla ph Fabrizio Sansoni - Opera Roma
Informations
When
from 5 June 2023
to 15 June 2023
POINT (12.495191 41.879187)
Contacts
Facebook:
www.facebook.com/operaroma
Online purchase:
www.ticketone.it/artist/venditti-de-gregori/#calendar-start=2023-06
Web site:
www.operaroma.it/spettacoli/venditti-de-gregori-il-tour
Timetables
Dal 5 al 15 giugno 2023
lunedì 5 giugno ore 21.00
mercoledì 7 giugno ore 21.00
giovedì 8 giugno ore 21.00
giovedì 15 giugno ore 21.00
Teatro grande

Condividi
Location
Venditti & De Gregori Il Tour, Viale delle Terme di Caracalla, 52
Viale delle Terme di Caracalla, 52
41° 52' 45.0732" N, 12° 29' 42.6876" E