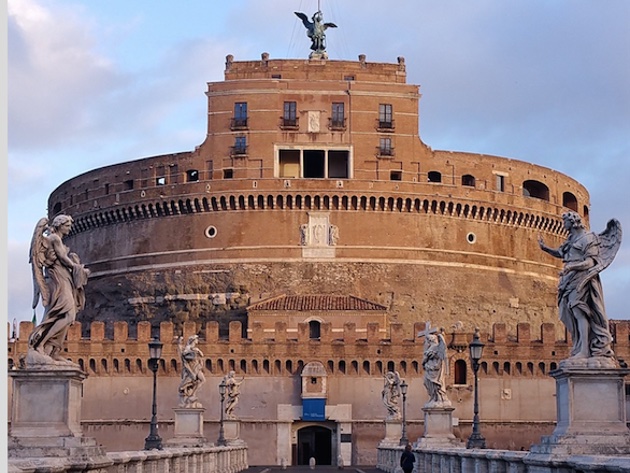 At Castel Sant'Angelo, visitors can catch the last glimpse of summer with a series of extraordinary openings, also in the evening.The exhibition in the spaces of the Courtyard of Alexander VI and the Bastion of San Matteo, includes dance, music, theater, performances, guided tours and dialogues with contemporary art, to enjoy the artistic and cultural beauties of the famous monument.
Among the many shows on the program we highlight the play "La Pazzia di Orlando" ("The Madness of Orlando"), or the wonderful journey of Astolfo to the moon from ancient canvases, directed and adapted by Mimmo Cuticchio; "Taiko no koe" ("The voice of the drum"), a musical show of Japanese drums with Rita Superbi, founder of the Taiko Group; "Na tazzulella 'e cafè" ("A cup of coffee"), a tribute to Pino Daniele, with guitar and voice by Carlo Maria Micheli, Pino Vecchioni on saxophone, Matteo Carlini on tajon and percussion. In addition, on the weekend of 25 and 26 September, on the occasion of the European Heritage Days, the Castle opens to visitors for guided tours and dialogues with contemporary art which involve the participation of artists interacting with the public.
At the end of the event on the feast of St. Michael the Archangel on 29 September, Giuseppe Passeri presents the story of the pyrotechnic scenography projects that over the years, right in Castel Sant'Angelo, have taken place on 29 June, the feast of the patrons of Rome St. Peter and St. Paul.
The exhibition is curated by the Directorate of State Museums of the City of Rome and the National Museum of Castel Sant'Angelo.
Photo: Courtesy of Castel Sant'Angelo official site Facebook
Informations
When
from 28 August 2021
to 29 September 2021
POINT (12.466296755527 41.903164394307)
Contacts
Facebook:
www.facebook.com/MuseoCastelSantAngelo
Instagram:
www.instagram.com/castelsantangelo
Mobile phone:
333 8537295
Web site:
www.direzionemuseistataliroma.beniculturali.it/dal-28-agosto-al-29-settembre-al-museo-nazionale-di-castel-santangelo-la-rassegna-sotto-langelo-di-castello-danza-musica-spettacolo
YouTube:
www.youtube.com/c/DirezioneMuseiStatalidellaCittàdiRoma
Timetables
Dal 28 agosto al 29 settembre 2021
Tutti i sabati (tranne il 4 settembre) e le domeniche.
Ingresso agli spettacoli ore 21.00
Mercoledì 29 settembre - Storia dei progetti di scenografie pirotecniche, presentata da Giuseppe Passeri

Condividi
Location
Sotto l'Angelo di Castello: danza, musica, spettacolo, Lungotevere Castello, 50
41° 54' 11.3904" N, 12° 27' 58.6692" E