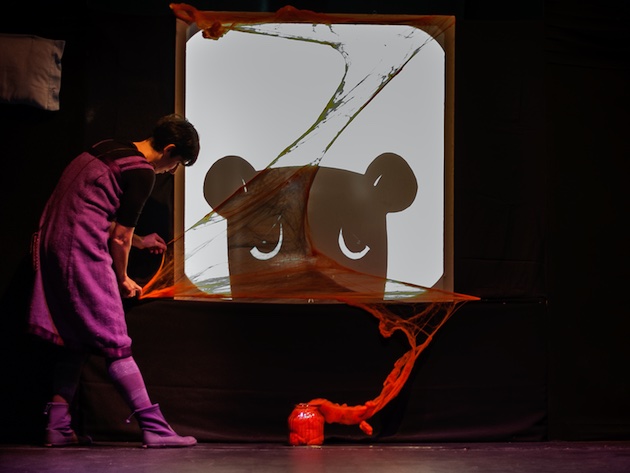 The show, inspired by a fairy tale by Marguerite Fatus, has as its protagonist Susina (Plum), a nice little girl who wears only purple. One day, while preparing to go out, she finds a small seed in her purse: thanks to the latter, the little girl begins a long day in which she meets many characters, to whom she gives a gift each time and from whom she always receives something in return.
First Susina meets a talking hen and decides to give her the small seed; in exchange he receives an egg, which she, in turn, gives to an old woman who lives nearby. The old woman then gives her a nice red apple. At this point a hungry crow enters the scene which, with its insistent croaking, convinces the little girl to give him the juicy fruit. Susina, however, is disappointed when the crow throws the whole core at her and she rejects it. But, once at home, when the evening arrives, Susina realizes that the core contains the seeds of the fruit and therefore, perhaps, everything can start again from this…
The message of the fairy tale is that, through sharing, transformation becomes possible because a chain of ever new discoveries is created. The story of Susina is therefore that of a child who grows up and begins to walk the path of life, of which that little seed, is the most significant symbol.
Photo credits: courtesy of Mongiovino Theater official site
Informations
When
from 16 January 2022
to 30 January 2022
POINT (12.495011 41.859673)
Contacts
Facebook:
www.facebook.com/accettellateatromongiovino
Online reservation:
prenotazioni@accettellateatro.it
Web site:
http://www.accettellateatro.it/susina
Timetables
domenica 16 gennaio
sabato 29 gennaio
domanica 30 gennaio
Tutti gli spettacoli sono alle ore 16.30
Consigliato a bambini dai 2 anni in su

Condividi
Location
Susina, Via Giovanni Genocchi, 15
Via Giovanni Genocchi, 15
41° 51' 34.8228" N, 12° 29' 42.0396" E