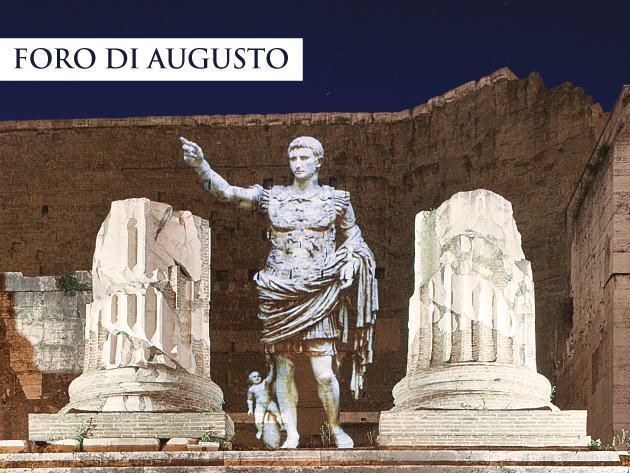 The extraordinary project curated by Piero Angela and Paco Lanciano returns with three reruns every evening, after the successes of the past years. You can relive the fascinating history of the Forum of Augustus with Journeys through Ancient Rome, the outdoor multimedia show available in 8 languages.
From the grandstand in via Alessandrina, the narrating voice of Piero Angela together with the magnificent films and projections - with great historical and scientific rigor - accompany you on an exciting adventure to discover this evocative place as it appeared in Ancient Rome.
Available in Italian, English, French, Russian, Spanish, German, Chinese, and Japanese and with three replicas of 40 minutes every evening, the show obeys the current anti-Covid-19 prevention measures. The admission is contingent and allowed to a maximum of 70 people per replica. Other measures are the measurement of body temperature, the use of audio guides protected by disposable wrapping and disposable earphones, and the maintenance of the interpersonal distance of one meter with pre-established placeholders in the stands.
You can pre-purchase your tickets online on the website www.viaggioneifori.it, from the call center 060608 - every day from 9.00 to 19.00 -, on-site, after filling the data sheet with your personal data, or in the Tourist Infopoints. For MIC cards and Roma Pass holders, the entrance ticket is reduced.
The marbles, still visible in the Forum, are illuminated by a multi-projection of lights, images, films, and animations and kick off Piero Angela's narration. The description focuses on the figure of Augustus, whose gigantic statue, 12 meters high, was kept next to the temple dedicated to Mars Ultor. It was thanks to him that Rome inaugurated a new era in its history. The imperial age, a period of extraordinary ascent, which, in just over a century, led the city to reign over an empire that extended from present-day England to today's Iraq, including much of Europe, the Middle East, and all of North Africa. These conquests not only led to the expansion of an empire but of a great civilization made up of culture, technology, legal rules, and art. In all areas of the Empire, traces of that past still remain and are witnessed by amphitheaters, baths, libraries, temples, and streets.
After Augustus, other emperors such as Nerva and Traiano left their mark in the Imperial Fora by building their own Forum. Rome at that time had more than a million inhabitants: no city in the world had ever had a population of such proportions. It was the great metropolis of antiquity: the capital of economy, law, power, and entertainment.
The project is promoted by Roma Culture, the Sovrintendenza Capitolina ai Beni Culturali and produced by Zètema Progetto Cultura. Conceived and edited by Piero Angela and Paco Lanciano with the historic collaboration of Gaetano Capasso and with the Scientific Direction of the Sovrintendenza Capitolina.
Informations
When
from 17 June 2021
to 7 November 2021
POINT (12.486785 41.893472)
Contacts
Email:
viaggioneifori@060608.it
Facebook:
www.facebook.com/ForodiAugusto2000
Instagram:
www.instagram.com/viaggioneifori
Online purchase:
https://museiincomuneroma.vivaticket.it/ita/tour/foro-di-augusto/2491
Telephone purchase:
060608 (tutti i giorni dalle 9.00 alle 19.00)
Twitter:
https://twitter.com/viaggioneifori
Web site:
www.viaggioneifori.it
Web site:
www.youtube.com/watch?v=cOGCZ7s11vQ&feature=youtu.be
Timetables
17 June to 7 November 2021
SCHEDULE HOURS (every evening)
from 17 June to 31 July: 21.15; 22.15; 23.15
1 to 31 August: 21:00; 22:00; 23:00
1 September to 30 September: 20.15; 21.15; 22.15
1 October to 7 November: 19.15; 20.15; 21.15
Any cancellations for technical or meteorological reasons will be promptly communicated via email to the address provided during the purchase.
Time: 40 minutes per performance
Places available: max 70 people per performance
Box office opens one hour earlier

Condividi
Location
Viaggi nell'antica Roma - Foro di Augusto, Via Alessandrina
41° 53' 36.4992" N, 12° 29' 12.426" E