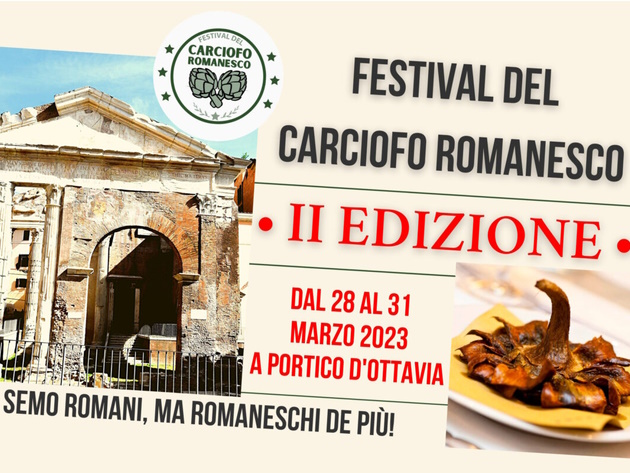 Also called "cimarolo" or "mammola," the Carciofo Romanesco (Roman artichoke) has always been considered the king of the vegetable garden and the pride of Roman cuisine.
Produced mostly along the Lazio coast, it is a plant native to the countries of the eastern Mediterranean, whose origins are shrouded in mystery. Many argue that it was the Egyptians who started its cultivation, others that it was the Etruscans, as the wall depictions of artichoke leaves in some tombs of the Etruscan necropolis of Tarquinia would seem to testify. The fact is that references to the artichoke can already be traced in Greek and Roman history.
But it was only after the 1940s and 1950s that the artichoke began to spread on Roman tables and that festivals, such as that of Ladispoli, have been celebrating it for over half a century.
An extremely versatile vegetable, a cornerstone of the Mediterranean diet with undisputed healthy and purifying properties, it can be eaten raw, cut into slices, and seasoned with oil and lemon, or "alla Romana," cooked over low heat and flavoured with breadcrumbs, garlic, parsley, pepper and plenty of oil.
Its destiny, however, is hand-in-hand with Roman-Jewish cuisine, that has made it the protagonist of many traditional dishes and the essential ingredient of a thousand-year gastronomy.
Handed down from generation to generation over the centuries, the tasty recipes of Roman-Jewish cuisine have a predominantly family character. Over time, the resulting culinary tradition has adapted to local culture and products, giving life to unique dishes with an unmistakable flavour.
It is no coincidence that one of the dishes born from this blessed fusion is the artichoke "alla giudìa," double fried in boiling oil and with crispy leaves. A true delicacy that, over time, has confirmed and strengthened the inseparable bond between Rome, the Jewish community, and the tasty excellence of Made in Italy, the undisputed star of the Festival del Carciofo romanesco, now in its second edition.
The event, which last year took place in the old Jewish quarter in the shadow of the Portico d'Ottavia, this year celebrates the delicious vegetable also in other historic rioni and districts, such as Campo de' Fiori and Piazza Navona.
Eighteen restaurants have enthusiastically joined the initiative to offer Romans and tourists their artichoke-based menus, including traditional recipes and modern reinterpretations, even in desserts that include curious but undoubtedly mouthwatering artichoke ice creams.
The stands of Coldiretti and the Car – Centro Agroalimentare Romano – will welcome visitors at the entrance of Largo 16 Ottobre.
Furthermore, during the Festival, the day after the European ice cream day held on 24 March, a delegation from the Italian Gelato Makers Association, led by world champion Eugenio Morrone, offers personalized tastings.
Informations
When
from 28 March 2023
to 31 March 2023
POINT (12.4783969 41.8923213)
Contacts
Web site:
https://festivaldelcarcioforomanesco.com/

Condividi
Location
Festival del carciofo romanesco - II edizione, Via del Portico d'Ottavia, 29
Via del Portico d'Ottavia, 29
41° 53' 32.3556" N, 12° 28' 42.2292" E