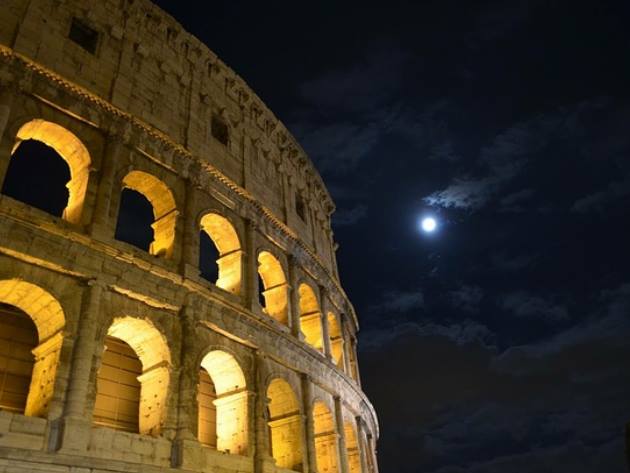 The Parco Archeologico del Colosseo kicks off a new edition of the suggestive guided tours under the moonlight dedicated to the monument's history, both the most famous of ancient Roman times and the Christian one.
The path takes us to discover the secret heart of the largest ancient show machine, that warren of corridors, tunnels and passages invisible to the spectators once populated by gladiators and ferocious beasts. It was the backstage of the Colosseum, where stage materials were stored, and beasts, locked in cages, were loaded on the elevators to reach the arena. Here, the venationes - hunting simulations - and the munera - games between gladiators - took place. Enjoy a moonlight walk along the more than 160 meters walkway to relive the atmosphere of the time and discover all the underground secrets.
The itinerary is enriched with the video installation of the 17th-century wall painting depicting an ideal view of Jerusalem, placed at 8 meters on the so-called Triumphal Gate, from which gladiators and beasts entered the arena. The video projections highlight the Old and New Testament stories, represented in the painting, by a selection of 22 scenes of the work, in dialogue with the 1601 engraving by Antonio Tempesta.
The visit recalls the traditional Via Crucis ceremony, passing in front of one of the aedicules and the cross, both placed along the arena's perimeter. It ends with a 360 ° view of the articulated framework of the underground and the immensity of the stands that welcomed more than 60 thousand spectators.
Informations
When
from 20 May 2022
to 31 December 2022
POINT (12.492438 41.889373)
Contacts
Online purchase:
https://bit.ly/3LsEyyq
Web site:
www.coopculture.it/it/prodotti/la-luna-sul-colosseo-2022-il-colosseo-underground
Timetables
20 May to 31 December 2022
May, November and December
Every Friday and Saturday from 20.00 to 24.00
Last admission 22.30
June to October
Every Thursday, Friday and Saturday from 20.00 to 24.00
Last admission 22.30
Duration: 1 hour
Accessibility
Fully accessible to visitors with disabilities

Condividi
Location
La luna sul Colosseo 2022: il Colosseo underground, Piazza del Colosseo
41° 53' 21.7428" N, 12° 29' 32.7768" E