The craziest and funniest Roman race is coming back to town and awaits all fans of running and outdoor sports. The venue that hosts it is the huge Cinecittà World park, a small universe dedicated to amusement with 40 attractions that guarantee emotions for the whole family.
Now in its fifth edition, Cinecittà World Run kicks off again this year from Cinecittà Street, the main street of the park with a particular vintage atmosphere, inspired by New York City in the roaring 1920s. The formula includes a 5-kilometer route since the last edition, with departures in small groups every 20 seconds. The little ones, with their family and friends, can instead participate in the Mini Run over a distance of 1 kilometer, always with different starts.
There will be many prizes and awards for the winners (the regulation can be read on www.romaroadrunnersclub.it); in addition, three season tickets to Cinecittà World will be raffled off among all the participants. The regulation may be subject to minor adjustments based on government decrees.
You may also be interested in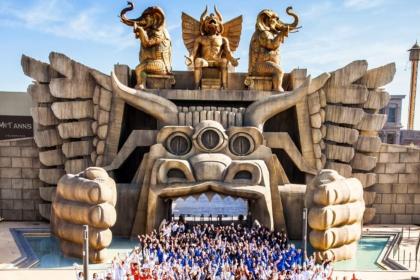 Cinecittà World - Roma World

Condividi
Open air sports and fitness
How and where to train body and mind in the second greenest capital of Europe
Sport for fans and spectators
How and where to see live sporting events
Informations
POINT (12.6324496 41.8559371)
Contacts
Email:
romaroadrc@fastwebnet.it
Email:
info@cinecittaworld.it
Telephone:
06 71077050 – 3477
Web site:
www.cinecittaworld.it/it/eventi/calendario-eventi/104/cinecitt%C3%A0-world-run
Web site:
www.romaroadrunnersclub.it/index.php?option=com_sppagebuilder&view=page&id=121
Timetables
Domenica 11 luglio 2021
Cinecittà World Run presso Cinecittà World
RITROVO
Ore 8.00 presso il piazzale di ingresso del parco (Piazza Cabiria)
Le partenze avverranno o in forma individuale con intervallo tra i 15 ed i 20 secondi tra ogni partecipante o a mini-gruppi di 5 persone ogni 30 secondi.
PARTENZA DELLE CORSE 
MINI RUN KM 1
Ore 9.00 - ritrovo corsa ludico motoria non competitiva di 1 km all'interno del Parco su Cinecittà Street sul lato
destro guardando il palco, seguendo indicazioni.
Ore 9.15 - partenza scaglionata a mini-gruppi di massimo 5 persone o gruppetti familiari, in base all'ordine di entrata nel parco. Partenze consentite fino alle 9.25. 
RUN KM 5
Ore 9.30 - ritrovo dei primi partecipanti sulla Cinecittà Street, che entreranno nel parco dalle 9.00, in base all'ordine di accesso, e che saranno indirizzati sul lato sinistro fronte palco. Lo staff indirizzerà almeno cinque persone alla volta nelle due aree di pre-partenza e poi nell'area di partenza. I partecipanti saranno dotati di un chip applicato sul pettorale al fine di stilare un ordine di arrivo.  
orario di partenza pre - assegnato dalla segreteria corsa
 

Condividi
Location
Cinecittà World Run 2021, Via di Castel Romano, 200
Via di Castel Romano, 200
41° 51' 21.3732" N, 12° 37' 56.82" E