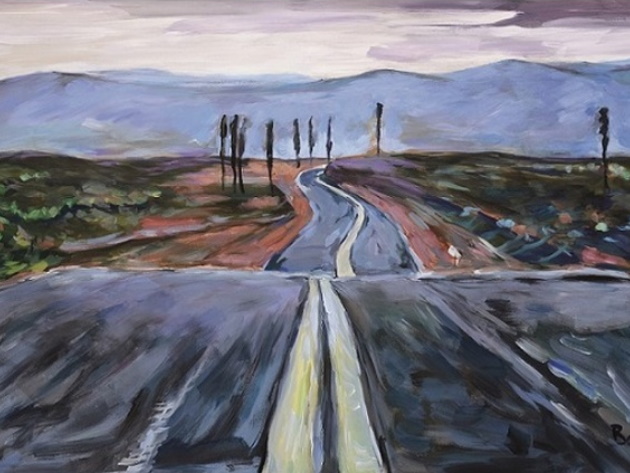 Curated by Shai Baitel, artistic director of Shanghai's Modern Art Museum, and hosted at MAXXI - Museo Nazionale delle Arti del XXI secolo, the exhibition celebrates Bob Dylan as a creator of visual art, born from his travels and inner and physical geographies.
Retrospectrum is the first European monographic exhibition exploring the broad oeuvre of Bob Dylan, an iconic figure whose talent and work span across mediums and disciplines.
Over many decades, the ingenious artist has expressed his visual art practice and multifaceted nature through his many artworks, from oil paintings to acrylics, watercolours, ink, pastel, and charcoal drawings, up to a series of iron sculptures.
The eight thematic sections of Retrospectrum – Early Works, The Beaten Path, Mondo Scripto, Revisionist, Drawn Blank, New Orleans, Deep Focus, and Ironworks – are an unmissable opportunity to retrace Dylan's experience in visual art.
The selected works are his visual diary; they testify to the transformation of sources and styles that have inspired and influenced Dylan over the years.
Through continual new encounters with ever-changing environments and people, his work has constantly developed in stimulating ways reflecting the sensibility of a genuine artistic voice.
Informations
When
from 16 December 2022
to 30 April 2023
POINT (12.4652138 41.9277884)
Contacts
Online purchase:
https://ticket.maxxi.archeoares.it/spettacolo?id=70
Web site:
www.maxxi.art/events/bob-dylan-retrospectrum
Timetables
Dal 16 dicembre 2022 al 30 aprile 2023
dal martedì alla domenica  dalle ore 11.00 alle 19.00 (ultimo ingresso ore 18.00)
chiuso il lunedì 1° maggio e 25 dicembre
Per aggiornamenti e modalità di visita consultare il sito ufficiale www.maxxi.art

Condividi
Location
Bob Dylan - Retrospectrum, Via Guido Reni, 4 A
41° 55' 40.0368" N, 12° 27' 54.7704" E